Is the World Ready for the Rise of the Yellen Dollar?
Imagine USD-JPY at 140.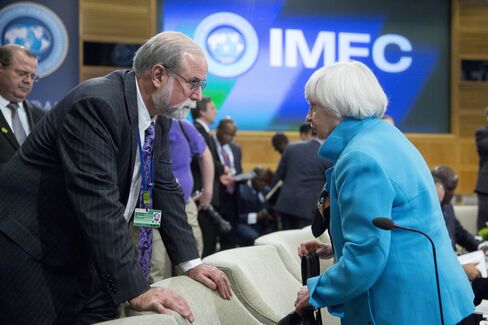 "We believe in a strong dollar policy." It's a phrase that's been stated seemingly since the beginning of time.
It was famously in vogue during the 1990s when many, including U.S. Treasury Secretary Robert Rubin, would recite the hope and fond wishes of this world-be-damned policy. Secretary John Snow also believed in a strong dollar even as it descended post-2001.
With the strong dollar, we were able to buy their exports. And other nations loved the policy until...
You see that is the rub: In the beginning, everybody wins from a strong dollar. They sell; we buy. And then all of a sudden... BOOM. They plead, Stop! Why? While the strong dollar does wonders for foreign exporters eager to sell to America, it's brutal for their non-export community.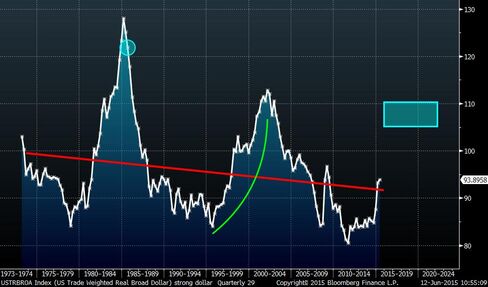 Marc Chandler, of Brown Brothers Harriman & Co., suggests that we may see a redux of Rubin-like dollar strength. The blue-rectangle shows where the dollar would end up if we see a rally like we got in 1995. We're talking EUR-USD going 0.82 and USD-JPY going to 140.
What would it all mean? How much foreign wealth destruction will we have to see before politicians dial 001-202-JANET-DO-SOMETHING.
We have been here before of course. But perhaps this time, distant from the collegiality of the post-World War II days, there will be a more fractious response to dollar strength. Perhaps, a Plaza Disaccord.
Marc Chandler thinks about these possibilities. Janet Yellen does, too. Wait! That's it. It's the new, new. We'll call it; The Yellen Dollar.
Discuss.
Before it's here, it's on the Bloomberg Terminal.
LEARN MORE