Ex-Yankee Jeter Raising $15 Million to Fund His Player's Tribune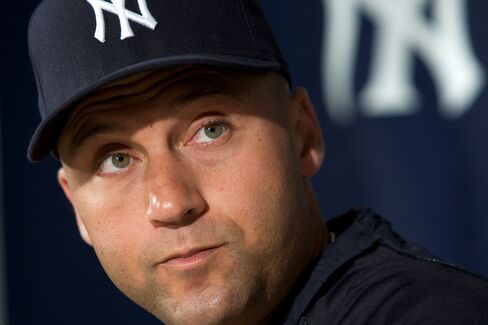 Derek Jeter is raising $15 million for the Player's Tribune Inc., a website formed by the former New York Yankees captain to host articles and videos by professional athletes.
The New York-based digital media company filed a notice with the U.S. Securities and Exchange Commission on Friday stating that it had raised $9.5 million from four investors. It's seeking another $5.5 million through the private stock sale, which began late last month.
Jeter, who spent two decades playing shortstop for the Yankees, formed the Player's Tribune last year as he retired from Major League Baseball. Jeter was on five championship Yankees teams, won the Rookie of the Year award in 1996 and was a 14-time All-Star.
The Player's Tribune initially raised about $3 million when it started up last July, regulatory filings show. According to today's filing, its directors include Jon Sakoda, a general partner at New Enterprise Associates, a Menlo Park, California, venture capital firm.
Jeter created the website in partnership with Legendary Entertainment, a Burbank, California, film, television and digital media company. Thomas Tull, the chief executive officer of Legendary Entertainment, and a part owner of the National Football League's Pittsburgh Steelers, is also a director at Player's Tribune.
The digital media company strives to be "the voice of the game by publishing first person stories directly from athletes, according to its website. Its current offerings include videos by Allen Iverson, the 2001 National Basketball Association Most Valuable Player, and Russell Wilson, who quarterbacked the Seattle Seahawks to two consecutive Super Bowl appearances.
Jaymee Messler, the president of Player's Tribune, didn't immediately return an e-mail seeking comment. Sakoda at New Enterprise Associates didn't return a telephone call.
Before it's here, it's on the Bloomberg Terminal.
LEARN MORE