Copa America Soccer Bosses Turn Abruptly Camera Shy Amid Scandal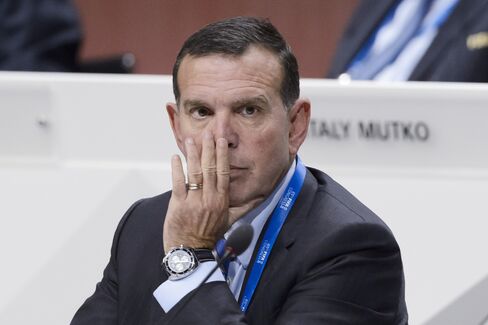 As South America's biggest soccer competition got under way yesterday, there were some significant absences off the field.
Leaders of the region's governing body have been keeping a low profile at the tournament, Copa America. President Juan Angel Napout skipped the opening ceremony and first game between host Chile and Ecuador in Santiago. The tournament is starting as officials from the governing body, known as Conmebol, deal with a U.S. investigation that has indicted 14 soccer leaders and marketing executives on charges including racketeering and money laundering.
"This is very rare," said Daniel Wainstein, an Argentine marketer and journalist providing services to tournament sponsor MasterCard Inc. "'Normally, in all the Copa Americas, there's always presidents of the federations at the inauguration."
Hours before the tournament kicked off, Paraguay passed legislation revoking immunity from prosecution on Conmebol's headquarters in Asuncion. The group had secured legal protections that are normally granted to foreign embassies.
A spokesman for Conmebol didn't reply to an e-mail seeking comment.
Bolivia soccer head Carlos Chavez who, along with the president of the Ecuadorian federation, was the only senior official visible at the group's hotel, said Napout will attend soccer's oldest national team competition without specifying when. Napout didn't respond to a voicemail seeking comment.
Hyatt Bookings
Napout, who was elected president this year, wasn't among those charged. Conmebol has booked around 20 rooms for its senior executives at Santiago's Hyatt hotel for the opening phase of the tournament, although Napout and under-pressure Brazil soccer head Marco Polo del Nero have yet to arrive. A conference room booked by the group remained unused.
All but two of those named in the U.S. case are from Latin America and the Caribbean, with authorities saying $110 million in bribes related to television rights were agreed for four editions of Copa America, including next year's centenary event in the U.S.
Venezuela's soccer head Rafael Esquivel remains in Switzerland after being arrested there in a dawn raid along with six other officials last month. His team opens its tournament against Colombia in two days.
Several other South American officials are also under pressure as the U.S. indictment provided details of 24 co-conspirators without naming them. Chile and the U.S. have an extradition agreement dating back to 1900.
Bribery Charges
Senior executives from the group that owns the marketing and television rights for the event are also absent, according to Wainstein. The U.S. alleges a joint venture between Brazil's Traffic Group and Argentine companies Full Play and Torneos y Competencias secured the event through bribes.
The scandal has also brought down FIFA President Sepp Blatter. Four days after being re-elected to a fifth term he announced he would quit once a successor had been chosen. Blatter, who's remained in Switzerland since the crisis unfolded, attended the 2011 Copa America final in Argentina.
"The travel plans of the FIFA president will be confirmed in due course,' FIFA said in a statement.
Before it's here, it's on the Bloomberg Terminal.
LEARN MORE