'Doctor Shopping' Helped Spread Deadly MERS Virus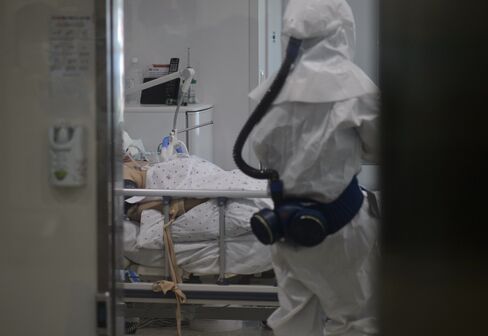 The man who brought MERS to South Korea visited Pyeongtaek St. Mary's Hospital the same day he was discharged from another center. The 68-year-old visited two more hospitals before being correctly diagnosed and quarantined.
Doctors reviewing how the Middle East respiratory syndrome coronavirus went on to infect at least another 125 people in the Asian nation say a reliance on general hospitals for medical care and a tendency for patients to shop around for treatment helped fan the virus's spread.
"This was a disaster waiting to happen," said Lee Jae Ho, a professor at the Catholic University of Korea's College of Medicine in Seoul who's studied the nation's primary-care system. "Had the first patient initially seen his own primary-care physician who knew he'd visited the Middle East, the virus would have been quickly contained."
MERS, which arrived in South Korea a month ago, has highlighted weaknesses in a health-care system that has the latest medical technology, but is hampered by overcrowded hospital waiting-rooms and inadequate primary care. Now the nation is grappling with an epidemic that's killed 11 people and which Morgan Stanley said Monday could slow economic growth by as much as 0.8 of a percentage point this year.
Emergency rooms are where almost all of the MERS infections occurred, Jeong Eun Kyeong, an official at the Korea Centers for Disease Control and Prevention, told reporters in Seoul Thursday. A map tracing cases shows several infected people seeded the virus in multiple hospitals and clinics.
Policy Shift
"Patients have been exposed to this type of epidemic in emergency rooms and I think we're in a situation where we should craft fresh policies on this," Kwon Duk Cheol, an official at South Korea's health ministry, told the briefing.
A World Health Organization-led mission assessing the situation recommended authorities immediately step up infection prevention and control measures across the country and quiz patients presenting with fever or respiratory symptoms for possible contact with a MERS patient, who had been to facilities where MERS patients have been treated, and who had been in the Middle East prior to falling ill.
Almost half of cases can be traced to the Samsung Medical Center in Seoul's affluent Gangnam district, one of the five largest hospitals in the country. The Samsung Electronics Co.- affiliated facility, with almost 2,000 beds, offers insights into the challenges underlying South Korea's health system, said Song Hyoung Gon, a specialist in emergency medicine who worked there from 2002 to 2011.
Glamor Hospitals
"Many people view Samsung as the epicenter of MERS, but the spread has to do with a structural problem, which is that too many people prefer big-name, general hospitals to neighborhood doctors and beds," said Song, who now oversees the emergency room at the public Icheon Hospital, south of Seoul. "To them neighborhood clinics pale in glamor compared to big hospitals with doctors who will pop up on TV."
Demand in major private hospitals is often so great that it takes days to determine that inpatients didn't need to be hospitalized in the first place because their ailments could have been treated by a general practitioner in the community, Song said.
A Samsung Medical Center spokesman said the hospital isn't responsible for the spread of MERS, pointing instead to the structure of the health system.
South Korean hospitals are more likely to be equipped with cutting-edge medical technologies than in most countries in the Organisation for Economic Co-operation and Development, yet the nation has some of the highest rates of potentially avoidable hospitalizations, the OECD said in a 2012 report.
'Fiercely Competitive'
There are 8.3 hospital beds per 1,000 people in South Korea, the third-highest rate in the developed world and well above the 4.9-bed OECD average. That's because the number of private hospitals increased to 2,548 in 2011 from 234 in 1980, spurred by a National Health Insurance system that guarantees universal access to any hospital at subsidized rates.
"It's an irony in a way because this is made possible by a solid medical insurance system," said Song, the emergency room physician. "In Korea, anyone can go to any hospital he likes, because the service is affordable."
Korea doesn't have a strong community-based primary-care system, the OECD said in its 33-page report. As a result, preferences for hospital care are reinforced by a "fiercely competitive market of health care providers who, too often, deliver what is possible for them and not what is most appropriate for patients' long-term health," the OECD said.
Unprofitable Hospitals
The competition has even spilled into the public sector, subjecting publicly owned hospitals to profit-based assessments. In 2013, a newly elected provincial governor from the ruling party closed a public medical center in Jinju in the southeast, citing a deficit worsened by high wages.
The average length of a hospital stay in South Korea is more than two weeks, the Paris-based OECD found. That compares with an OECD average of 7.2 days.
The health system has created a situation of induced demand by physicians and "doctor shopping" by patients, researchers from six Korean Universities wrote in a study in the Journal of Korean Medical Science in 2013.
"Korea is a lonely island on this planet when it comes to medical care," Lee at the Catholic University said. "The system is distorted and a second and third crisis is unavoidable if it isn't fixed."
Before it's here, it's on the Bloomberg Terminal.
LEARN MORE