Xi Implores China to Safeguard Land Just as It Protects Pandas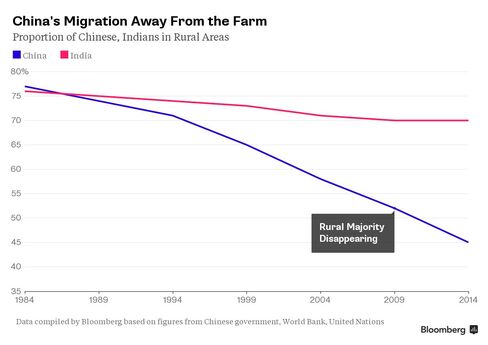 Chinese leaders are getting serious about making sure they have enough farmland to feed the world's most populous nation.
"Arable land is the country's most valuable asset," President Xi Jinping said in a statement posted on a government website last month. "We should protect it the way we protect pandas."
The World Bank estimates that China's arable land declined 6 percent in the last decade as economic growth boomed. Local governments encouraged developers to buy up family-run farms as they sought to boost revenue, helping fuel the trend.
Now the government is looking to reverse that trend. Xi says farmers will be given more property rights, including the freedom to possess, use, benefit from and transfer their contracted land. Special attention should be given to problems such as land being used for non-farming purposes after those transfers, Xi said.
"President Xi is making land a priority because there has been abuse of transfers," said Zhu Qizhen, a professor at China Agricultural University in Beijing. "With such a big population, China cannot lose its self-reliance in terms of grain. Too much land has been blindly turned into non-productive land."
Thirty years ago, 75 percent of Chinese lived in rural areas -- about the same as in India. Today, the proportion in China is 45 percent, compared to 70 percent in India, as this chart shows.
Arable Land
China ranked fourth behind the U.S., India and Russia in arable land as of 2011, according to the latest available data compiled by Bloomberg from the World Bank. Because there are various definitions for arable land, China's own tally for 2012 is about 20 percent higher than World Bank figures. Still, Xi's statement puts China's productive land at just 13 percent more than what the government sees as the bottom line to ensure food security.
The proliferation of golf courses has become a symbol of how China's land laws are flouted. China has issued several bans on the construction of new golf courses in the past decade, but the number increased to more than 600 from 170, according to the official People's Daily.
"The construction of golf courses in China has not been because of an unbridled passion for the sport, but because of multiple economic incentives and corruption," according to Xi's report. "The spawning of golf courses is not only a waste of China's limited land and water resources," it goes against the aim of sustainable economic growth.
As for China's other national treasure, the giant panda, the latest census in 2014 found that were 1,864 alive in the wild, up 17 percent from a decade earlier, according to the World Wildlife Fund.
— With assistance by Haixing Jin
Before it's here, it's on the Bloomberg Terminal.
LEARN MORE