Why Millennials Don't Live Where You'd Expect Them To
Young people want to be able to afford the trappings of adulthood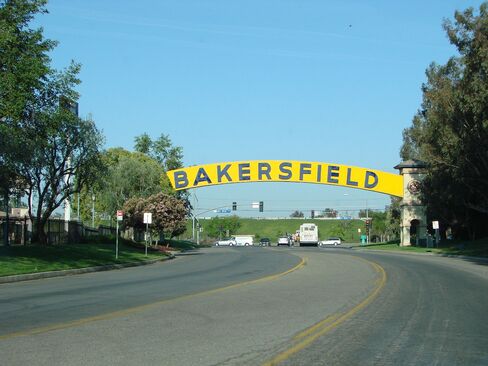 Millennials are the most mobile generation in the U.S., and plenty of analysis has been devoted to figuring out their best and worst relocation options. But while they do a lot of moving, the reasons why may be more complicated than a ranked list can capture, according to new data from Livability, a website that tracks public opinion about cities and suburban areas. The survey, conducted by market-research firm Ipsos Public Affairs for Livability, asked more than 2,000 adults which characteristics of a place factored into their job decisions.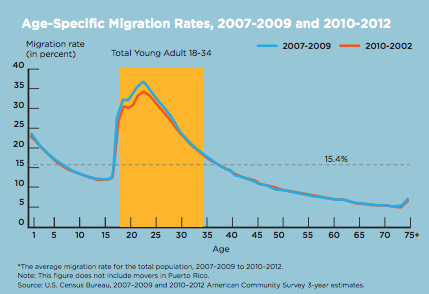 Only 21 percent of millennials, those age 18 to 34, said they would first pick a place to live, and then find a job. The same share of young people said they'd choose a job and move wherever necessary to get paid.
When asked about which features of a place make it easiest to live in, most people brought up the bottom line first. About 80 percent of all respondents said the cost of living and affordability of housing mattered most when choosing a place to nest. The money questions, as well as concerns about crime rate, were priorities for most people, regardless of age, gender, income, or education level.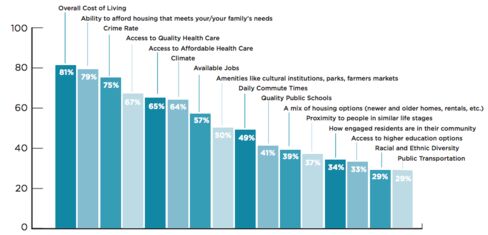 Young people disagreed with older generations about the value of more esoteric facets of life, such as the weather. Millennials said climate was hugely important in their decisions about where to live, while people age 35 and up were much less moved by it. The youngest group also put more emphasis on commute times and less on cultural amenities, access to health care, and being around people their age.
The data back up the idea that there's more nuance behind where young people choose to live than the simple draw of lucrative jobs. Bloomberg found that only 37 of the 50 biggest U.S. cities are affordable places for 18- to 34-year-olds to settle down: Millennials do not earn half of what they would need to buy a home in cities like San Francisco, San Jose, and Los Angeles. Yet they're not racing to the most affordable places they could live, either (Akron tops the list).
People in this age group are instead moving to places that fall somewhere in between the cheapest option available and the fanciest. Bloomberg recently looked at locations where the millennial population has grown the fastest and arrived at some unlikely youth hot spots. In Riverside, Calif., for example, the population of 20- to 34-year-olds grew by an impressive 39 percent from 2010 to 2013, according to Census data. That's the biggest jump of any city in the U.S. The other cities being overtaken by millennials include Bakersfield, Calif., McAllen, Texas, and Orlando. Let's hope Disney World likes snake people.
Before it's here, it's on the Bloomberg Terminal.
LEARN MORE