U.K. May Sell $2.2 Billion of RBS Shares as Soon as September
Chancellor of the Exchequer George Osborne may start selling about 1.4 billion pounds ($2.2 billion) of shares in Royal Bank of Scotland Group Plc as early as September, said a person with knowledge of the matter.
The government will probably seek investors for a smaller stake than the 3.2 billion pounds in Lloyds Banking Group Plc sold in a first tranche because of lower trading volumes, said the person, who asked not to be identified because the details are private. Officials at RBS, the Treasury and UKFI, which manages the stakes in bailed-out lenders, declined to comment.
Osborne used his annual Mansion House speech in London's financial district Wednesday to pledge a sale to institutional investors over the coming months, even though it may cause a loss for U.K. taxpayers. Two years ago, he used the same event to announce plans to sell Lloyds shares for the first time since the bank's bailout, ahead of a September auction.
While it may be more difficult for the government to sell RBS shares than its stake in Lloyds, no decision regarding the size of a first tranche has been taken, the person said. With market liquidity traditionally low in July and August, demand for the shares may be higher in September.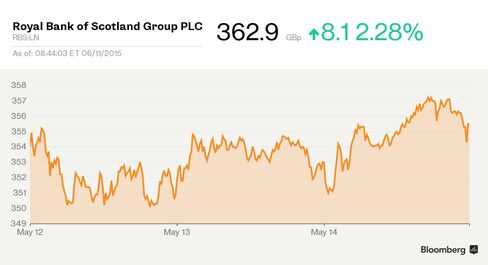 Average daily trading volume in RBS is at 0.29 percent versus 0.45 percent at Lloyds, reflecting the government's 79 percent ownership against a smaller stake in Lloyds, Rothschild wrote in the report published by the Treasury on Wednesday.
The lender's "small free float and limited liquidity may deter investors from purchasing RBS stock," Rothschild said.
Disposing of RBS in its entirety "will take some years," according to Osborne, though there's "no reason" why a retail offering can't be held at a later date. Selling the entire stake at the current share price would lose about 7 billion pounds, the report said. However, a sale now would pave the way for later disposals at higher prices.
The report showed that if the government sold all its remaining shares in the banks it helped bail out -- including Lloyds and RBS -- at share prices on June 5, taxpayers would recoup 14 billion pounds more than the bailouts cost. That includes fees and other proceeds paid by the banks.
RBS rose 2.1 percent to 362.10 pence at 1:21 p.m. in London. That compares with 357 pence on June 5 and the 407 pence at which the government has said it would break even on its bailout. The stock is down about 8 percent this year, while Lloyds has advanced 15 percent.
RBS will report first-half earnings on July 30.
Read this next:
Before it's here, it's on the Bloomberg Terminal.
LEARN MORE