Saab Sees More Missile Orders on Conflicts Such as Ukraine War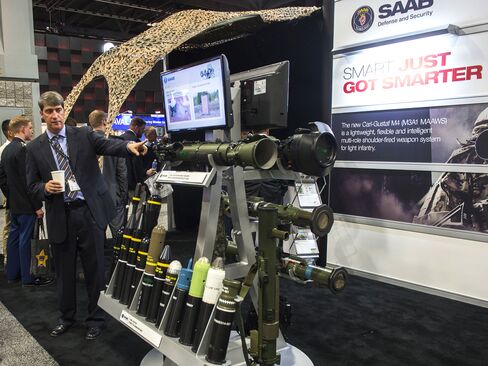 Saab AB said it's experiencing a revival in demand at its unit making missile systems and ground-combat arms after years of decline as rising military tension across the globe prompts governnments to boost defense spending.
"We have had quite a tough period with declining order intake," Goergen Johansson, head of Saab's Dynamics unit, said in a phone interview on Thursday. "Now we see quite clearly that it's turning."
Saab is benefitting as countries bordering Russia and Ukraine are stepping up their defenses. The company today announced a 127 million-krona ($15 million) contract from the European Defence Agency for ammunition to Estonia, Latvia, Lithuania, the Czech Republic and Poland. The ammunition is for Saab's shoulder-fired Carl-Gustaf weapon, which is used by about 40 countries around the world.
"This kind of capability is what you need when looking at Russia's new capabilities," Johansson said.
Relations between Europe and Russia have been strained since the country annexed the Ukrainian region of Crimea last year and started supporting pro-Russian rebels in the eastern part of the country.
Saab is now marketing a new, lighter-weight version of the Carl-Gustaf that was launched last year. The first contracts for the Carl-Gustaf M4 could be signed this year for delivery in 2016 to 2017. "That'll also drive demand," Johansson said.
The company today also announced an order from the U.S. Army for camouflage equipment. The contract, valued at about 50 million kronor, is important to Saab Dynamics' operations in the U.S., which has had a challenging period, Johansson said.
Saab Dynamics made a loss in the first quarter. Johansson reiterated that his unit should post a profit in the full year.
Before it's here, it's on the Bloomberg Terminal.
LEARN MORE