A Drug for Dogs Does Not a Biotech Make Is AB Science Lesson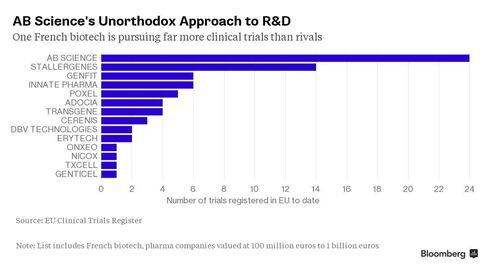 AB Science is unlike any biotechnology company you've ever heard of. For investors, that hasn't always been a good thing.
While most early-stage drugmakers tend to focus their efforts on one or two diseases, the French company has studied its lead compound in more than 20 illnesses ranging from asthma to Alzheimer's. Chief Executive Officer Alain Moussy, a former management consultant whose biography makes no mention of medical training, serves as scientific director, has co-authored some of the company's research papers and is listed on patents as a co-inventor of the drug masitinib.
The unorthodox approach hasn't paid off. After more than 12 years studying masitinib, AB Science has only gained permission to sell it to treat cancer in dogs. It hasn't finished any of the advanced tests typically required for humans. Twice, the company tried and failed to win permission to go to market based on small mid-stage trials. And it has been upbraided by both U.S. and French regulators.
"They have an unusual way of operating," said Jean-Yves Blay, an oncologist and managing director of the Centre Leon Berard, a cancer hospital in Lyon that has stopped working on the company's studies. "The methods and the means used were not those usually applied for registration trials."
Second Chance
Now AB Science is about to get another chance to silence doubters. The company expects to have results by the end of September from a late-stage trial to treat mastocytosis, a rare disorder of the immune system, that could be the springboard it needs for regulatory approval.
Moussy didn't wish to be interviewed for this article, Chief Financial Officer Laurent Guy said in an e-mail. Guy declined to answer specific questions about the company's history and strategy. The decision to study multiple diseases -- AB Science has 12 advanced clinical tests under way -- is justified by the results achieved so far, he said.
Along the way, investors have been taken on a rollercoaster ride. The stock soared in 2012, giving the company a market value of almost $1 billion, after Moussy said promising trial results raised the possibility of an accelerated approval for the drug. The shares subsequently lost two thirds of their value when the European Union drug regulator twice rejected AB Science's marketing applications. The stock has since doubled from the low it set last year.
Scattershot Tactics
For Moussy, it all began as a personal quest. A former consultant at Booz Allen & Hamilton and head of corporate development at retailer Carrefour SA, he helped found a non-profit advocacy group in 1999 to encourage research into mastocytosis because someone in his family had the illness, according to the company.
Two years later, he founded AB Science with some of the researchers from the group. Investors included wealthy individuals and families with ties to the retail industry. The company went public in an initial public offering in 2010.
Besides his unusual approach to science, there's another way 49-year-old Moussy stands out among pharma executives: He doesn't appear to have sold a single share over the years, hanging on to his 41 percent stake instead of cashing in when the stock soared.
AB Science has registered 24 clinical trials in the European Union alone, according to the EU Clinical Trials Register. Including trials registered in the U.S., it's run studies in 11 types of cancer as well inflammatory and neurological conditions such as Crohn's disease, rheumatoid arthritis, psoriasis, depression, acute strokes and multiple sclerosis. French drug and biotech companies of similar size have an average of four trials under way each, the data show.
Cash Dwindles
The company's rationale in throwing masitinib at so many ailments has to do with how the drug works. It's intended to target mast cells, which play a role in the inflammation that underlies many illnesses. Even so, major drugmakers with a product in the same family like Pfizer Inc., Novartis AG and Bayer AG, have opted to focus on cancer. The first tyrosine kinase inhibitor, as these drugs are known, was Novartis's Gleevec. It won U.S. regulatory approval in 2001, the year AB Science was created.
"The risk of investigating many indications is to lack the resources for thorough testing," said Jean-Claude Muller, a former senior vice president of research at Sanofi's predecessor company.
AB Science's cash reserves are dwindling. They stood at 13.2 million euros ($15 million) at the end of last year, down from 26.9 million euros a year earlier. The company raised another 8 million euros by selling shares in February. Operating expenses have doubled to 17.3 million euros since 2009, suggesting it will soon have to raise more money to pay for drug development.
Rigor Question
To contain costs, the firm monitors trials itself rather than hiring contractors, starting studies with small groups of patients, and increasing them as positive results are found.
"This company clearly shows great determination but rigor may not be optimal," said Dominique Blanchard, a Paris-based scientist who says he decided not to join AB Science after being approached for a position as clinical trials supervisor in 2008.
Regulators haven't been swayed by the results of the company's low-cost research strategy either.
The European Medicines Agency, in its 2013 rejection of the application to sell masitinib for gastrointestinal cancer, said the study wasn't sufficient to show the drug worked and there wasn't enough safety data. In 2014, the agency refused to approve masitinib for pancreatic cancer, saying AB Science's study didn't show the drug was effective in a broad group of patients.
What's more, the medicine manufactured for use in both cases didn't meet quality standards, the agency said.
Clampdown on Tests
AB Science responded that the gastrointestinal trial was properly designed and it did show a benefit for patients. Enough people have been given the drug in all the company's trials to show it's safe, AB Science said. For pancreatic cancer, the medicine showed a benefit in a subgroup of patients, so it could be approved for them, the company said. Quality problems were being remedied, it said.
AB Science noted that the company was seeking conditional approval, with the drug's benefits to be confirmed in bigger studies. It unsuccessfully appealed the agency's decisions.
France's drug regulator last year also turned down the company's request to temporarily allow the use of masitinib, even before it's approved across the European Union, for patients with gastrointestinal cancer who didn't benefit from existing drugs. Officials said the data provided on 44 patients wasn't significant.
Warning Letter
France prohibited AB Science in 2012 from conducting trials in Alzheimer's, severe asthma and severe chronic obstructive pulmonary disease, the National Agency for Drug Security said in an e-mailed response to questions. The agency declined to say why. It can suspend or prevent a trial if there's a risk to public health or if the study conditions don't match the design it approved.
Even for pets, dealings with regulators haven't been smooth. The company got a warning letter from the U.S. Food and Drug Administration last year in which the agency said promotional materials touted the drug for uses for which it's not approved. AB Science has sold masitinib for canine cancer since 2008 in Europe and the U.S.
The company has also had tense dealings with a patient group. In 2012, Sarcoma Patients EuroNet Association complained that AB Science, in a press release, exaggerated the scientific value of the results from a trial on gastrointestinal cancer, potentially giving "unreasonable hope to patients." The group refuses to have any contact with the company, Markus Wartenberg, its president, said in an e-mail. He declined to comment further.
Alzheimer's Hopes
AB Science fell 0.4 percent to 15.95 euros at 9:15 a.m. in Paris, giving the company a market value of 540.7 million euros. A majority of analysts are optimistic: Three recommend buying the shares, two have hold or neutral ratings and one recommends selling, according to data compiled by Bloomberg, with an average price target of 28.30 euros.
Some researchers are hopeful about the company's efforts in Alzheimer's disease.
"The second phase showed interesting results on harmful inflammatory processes in patients' brains," said Joel Belmin, head of the geriatric department of the Charles Foix hospital in the Paris region. He participated as a researcher in the Alzheimer study and said he wasn't aware of the regulatory clampdown.
Before it's here, it's on the Bloomberg Terminal.
LEARN MORE