Morgan Stanley's Feldman Says Japan Wages Flag Surprise QE Exit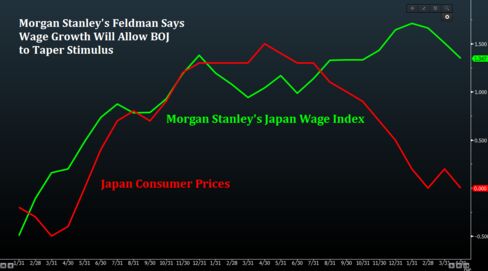 Japan's bond bulls are in for a surprise as rising salaries allow tapering of stimulus as soon as next year, says Morgan Stanley MUFG Securities Co.'s Robert Feldman.
Based on his firm's analysis, wage inflation is on pace to reach 2 percent this time in 2016 before accelerating further, helping the Bank of Japan achieve its consumer-price increase target soon after, he said. Under that scenario, 10-year government bond yields will more than double to 1.25 percent by the end of the second quarter of 2016 from 0.5 percent in Tokyo Friday, according to the brokerage.
"There's a large majority of bond investors who think the next move by the BOJ is going to be more easing," said Feldman, the firm's chief economist in Tokyo and a member of the advisory council on government debt management. "So there are going to be a lot of surprised people if we turn out to be right."
Feldman's comments in an interview on June 9 chime with remarks from BOJ Governor Haruhiko Kuroda a day later, when he stunned markets by suggesting the yen had weakened enough, while reiterating stimulus wouldn't be permanent. Seventy-two percent of economists surveyed by Bloomberg last month still expect an expansion of the central bank's bond-buying program, even as more and more of them push those forecasts back.
Official Data
The BOJ's preferred inflation measure, which strips out fresh food and the effects of last year's sales-tax increase, was flat in April after 2014 gains vanished on the plunge in oil prices. While workers' pay increased faster than the cost of living in April for the first time in two years, that was only by 0.1 percent, the labor ministry said this month.
Several "oddities" are making pay look worse than it is, Feldman said. Those include the government calculating wages per worker rather than per hour, and the lower salaries of entrants to the labor force pulling the average down, he said.
Morgan Stanley has come up with its own index that Feldman said tries to "unscramble the egg." It shows wages have grown at an annual pace of as high as 1.7 percent this year, from a recent trough of a 0.7 percent decline at the end of 2012, when Prime Minister Shinzo Abe had just taken office.
The trend puts the central bank on track to announce an end to deflation in the second quarter of next year, and to start tapering its debt purchases a few months later, Feldman said.
BOJ policy board member Yutaka Harada said in an interview last week that 3 percent annual wage growth would be needed to achieve stable 2 percent inflation.
'Soft Landing'
Feldman expects a "soft landing" for the sovereign bond market, with yields rising gradually as investors start to realize the BOJ will reach its price goal.
Feldman is in the minority. In Bloomberg's survey of economists last month that didn't include Morgan Stanley, only two of 36 respondents said the Bank of Japan would be able to reach its 2 percent inflation target in the first half of the fiscal year starting next April.
"The BOJ must remain patient and continue its unprecedented easing to stoke growth and inflation," said Tadashi Matsukawa, Tokyo-based head of fixed-income investment at PineBridge Investments Japan. "It will take another two to three years."
Kuroda's comments on Wednesday were taken by the market as his clearest signal since embarking on an unprecedented asset-purchase campaign in April 2013 that Japan's currency has fallen enough. The yen has tumbled more than 20 percent since the introduction of Kuroda's stimulus to 123.63 per dollar as of 4:19 p.m. in Tokyo.
"I don't think further yen weakness is either desirable or likely," Feldman said. "It's weak enough."
Before it's here, it's on the Bloomberg Terminal.
LEARN MORE