Monsanto Meets Syngenta Investors in Push for Buyout Talks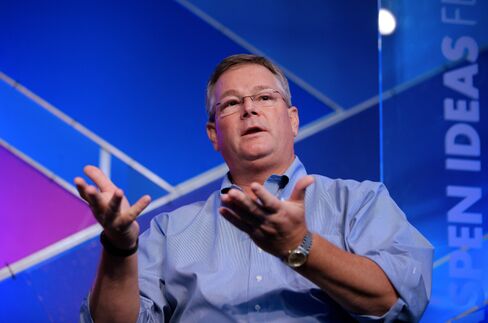 Monsanto Co., the world's largest seed company, met this week with Syngenta AG shareholders in a bid to pressure the Swiss rival into negotiations after a $45 billion takeover offer was rejected.
Chief Operating Officer Brett Begemann and Chief Technology Officer Robb Fraley met Monday and Tuesday in Europe to discuss the merits of the bid with Syngenta investors, many of whom also own Monsanto shares, said Scott Partridge, vice president of strategy. Some shareholders are frustrated the Basel, Switzerland-based company has refused to negotiate, he said.
"I'd suspect they will try to get to Syngenta's management and board," Partridge said Wednesday by phone. "If that helps Syngenta's board and management engage, that would be a good thing because they haven't engaged thus far."
Syngenta has snubbed Monsanto's unsolicited offer of 449 Swiss francs ($480) a share, with 45 percent in cash, deeming it too low and the execution risk too high. The bid represents a 43 percent premium to Syngenta's share price at the close on April 30, just before Bloomberg News reported the proposal.
Monsanto rose 0.5 percent to $115.08 at the close in New York. Syngenta fell 0.5 percent to 399.70 francs in Zurich, the lowest close since May 8.
Due Diligence
Monsanto said on Sunday it would pay a $2 billion breakup fee if regulators reject the deal, and it reiterated plans to sell overlapping seed and chemical units to overcome antitrust objections. Syngenta responded that its U.S. suitor has failed to convince it of the merits of a merger, calling the breakup fee "paltry" and saying the planned divestitures don't resolve the regulatory issues.
Monsanto could "potentially refine our view on value" if Syngenta, through a due diligence process, would allow access to strategic plans and other non-public information that could demonstrate greater earnings potential than indicated by publicly available data, Partridge said.
"Syngenta needs to engage so we can start the diligence process to see if 449 is the right number or not," he said. "They've got a huge premium offer on the table, and they need to talk to us if they have more information where they believe there is greater value."
Syngenta said it won't provide due diligence.
"It would be madness for Syngenta to open its books to a competitor without adequate assurance over the very considerable regulatory risks of a combination," the company said in an e-mail Thursday.
Executives Invited
Monsanto's buyout offer would combine its leading franchise in genetically modified crops with the world's biggest maker of agricultural chemicals.
Syngenta may be willing to consider a bid of at least 500 francs a share, a person familiar with the matter said last month.
Monsanto's meetings this week stemmed from public presentations last month in New York, where executives were invited to talk with investors in Europe, Partridge said.
"We want to be responsive to people who have an interest in this transaction," he said. "We are not out in a campaign."
Monsanto has proposed renaming the combined company and incorporating it in the U.K. Syngenta executives, in discussions that have spanned years, have said they want a neutral location for a merged company, Partridge said. Monsanto doesn't want to be incorporated in Switzerland and suggested the U.K. as a compromise, he said.
The possibility of incorporating in the U.K. wasn't repeated in Monsanto's proposal this week adding a breakup fee.
Regardless of where the company is incorporated, it will continue to be run from St. Louis, Partridge said.
Before it's here, it's on the Bloomberg Terminal.
LEARN MORE