Italy's Quick Austerity Fixes Return to Plague Renzi's Finances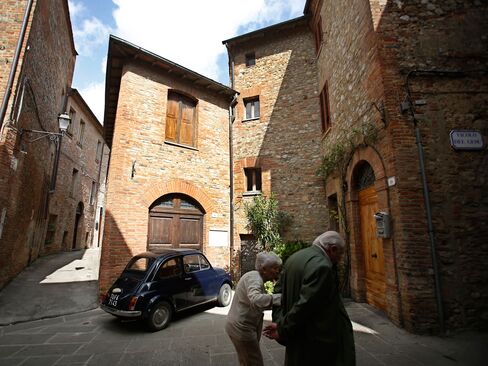 The ghost of austerity past keeps haunting Italian Prime Minister Matteo Renzi as he tries to fix his country's debt-ridden public finances.
For the second time in less than two months, Italy's Constitutional Court may strike down a law passed by a previous government aimed at limiting spending. Estimates by unions and government lawyers place the potential cost of an unfavorable ruling at as much as 35 billion euros ($39.4 billion).
While Renzi managed to get around the first judgment by paying back only a part of pensions due to retired workers, it's unclear how long he can keep dodging the rulings, making investors jittery just as the bond market is falling.
"The government can only limit the impact of negative rulings on public finances," said Loredana Federico, an economist at UniCredit SpA bank in Milan. "In the long term, emergency measures, such as a salary or pension freeze, need to be replaced by a structural and comprehensive review of public spending."
The yield on Italy's 10-year benchmark bond has risen more than 110 basis points from an all-time low on March 12. The yield was 2.19 percent as of 12:44 p.m. in Rome on Friday. That still compares with more than 7 percent when the euro debt crisis hit the country with full force in November 2011.
Struck Down
On April 30, the country's supreme court struck down a 2011 law passed by then-premier Mario Monti that stopped inflation-linked increases for retired higher-earners. While past and future payment claims totaled as much as 19 billion euros, the government decided to reimburse only about a 10th of that through an emergency decree law that Renzi tried to pass off as a "bonus" for retired workers.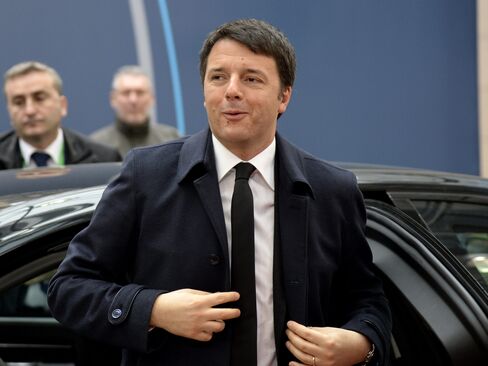 On June 23, the court will start debating the constitutional legitimacy of the 2010 law passed under Monti's predecessor, Silvio Berlusconi, that put a three-year freeze on civil servants' salaries. The measure was extended in 2013 by Renzi's predecessor Enrico Letta and confirmed last year by the current government.
"There might be exceptional circumstances when the government can resort to measures like a freeze, but this is becoming structural," said Giovanni Faverin, head of the public administration branch at CISL workers union. "Nor did it even help reduce public spending, which has risen anyway in recent years."
Full Impact
Estimates say claims may reach at least 14 billion euros, if the court strikes down the salary freeze, according to Faverin. The full potential impact of a ruling that it was unconstitutional may amount to 35 billion euros through this year, according to news agency Ansa, which cited a memo that the state's lawyer will present to the court.
The difference with the union's estimate is due to extra costs related to contributions, severance pay and contract renewals in addition to a larger number of workers of other public administration bodies being accounted for, according to Faverin.
Whether it's 14 billion or 35 billion, the amount would be too much for the government, which is still helping the country claw its way out a recession that lasted more than three years. The government debt in March rose to a record 2.18 trillion euros, the second-highest level in Europe as a percentage of gross domestic product, after Greece.
Impossible Amount
Shortly after the ruling on pensions, Finance Minister Pier Carlo Padoan told lawmakers in Rome that paying the full amount was impossible because "we would have not only broken the European Union rules, but also put our public finances on a non-sustainable path, with the risk of putting the market's confidence into question."
Padoan also criticized the court for not taking the potential costs of its ruling into account.
"The court should always be careful when making such a decision because the figures at stake are significant and can't be separated from the legal decision," said Stefano Ceccanti, professor of comparative public law at La Sapienza University in Rome. "There's one public spending cake and it can't be expanded" by a ruling, he said.
The premier faces the risk that disgruntled retirees file a legal challenge to the decree his cabinet passed last month.
Eventually, a further blow due to a judgment on the wage-freeze measure may force the government to speed up cost-cutting efforts and even increase the tax burden on companies and households.
Renzi may "need to dig out substantial spending cuts," said Raj Badiani, an economist at IHS Global Insight. "Pressure from European Commission could leave the government no option but to pile on new austerity measures."
Read this next:
Before it's here, it's on the Bloomberg Terminal.
LEARN MORE