Germans Ready to Bargain to Keep U.K. in EU, YouGov Poll Finds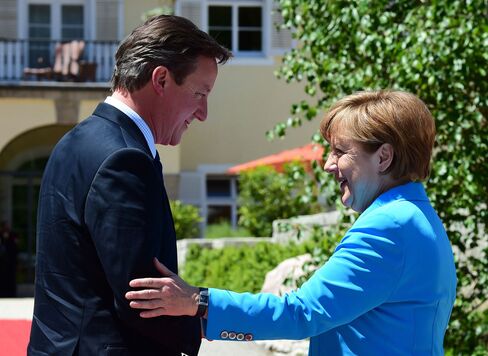 Germans support the U.K. staying in the European Union by a margin of 58 percent to 18 percent, while more than half say leaders of the bloc should negotiate with Britain to make an exit less likely, according to a survey by YouGov Plc.
The poll published Thursday found that 55 percent of Germans think a "Brexit" would harm Britain, and 57 percent think it would be bad for the EU. By contrast, a separate YouGov poll published May 19 showed a majority of Germans favor Greece, locked in negotiations with its creditors, leaving the euro area.
Chancellor Angela Merkel offered last month to help Prime Minister David Cameron secure changes to Britain's relationship with the EU. Still, a senior German lawmaker, Norbert Roettgen, said last week that Cameron's push to curb employment benefits for other EU citizens would be a red line in negotiations.
Cameron's May 7 election victory has made the EU renegotiation and a referendum on membership, which he pledged to deliver by the end of 2017, the top item on his agenda.
YouGov polled 1,126 German adults from June 2 to June 5. It didn't specify a margin of error.
Before it's here, it's on the Bloomberg Terminal.
LEARN MORE