Former Currency Chief Shinohara Sees Yen Reflecting Fundamentals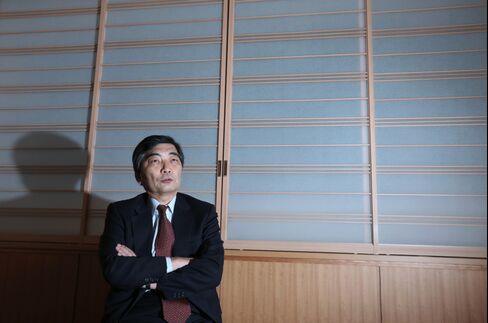 The Japanese yen is weak, though still around an appropriate level to reflect Japan's fundamentals, said Naoyuki Shinohara, a former top currency official at the finance ministry.
"It's true that the yen has become weak in terms of real effective rates," Shinohara, who is also a former deputy managing director at the International Monetary Fund, said in an interview Thursday. "But I don't think it's moved significantly from fundamentals in a medium- to long-term perspective."
Shinohara's view adds to a flurry of comments on the currency this week from current and former Japanese policy makers. The yen made its biggest one-day gain this year against the U.S. dollar on Wednesday when Bank of Japan Governor Haruhiko Kuroda said Japan's real effective exchange rate was already very weak and that it was hard to see it falling further.
Real effective exchange rates account for inflation and trade with other nations.
Kuroda's remarks were interpreted as signaling that policy makers in Japan weren't seeking further depreciation in the yen, which has slumped by a quarter since Kuroda launched record monetary stimulus in April 2013.
Movements in the currency, which touched 13-year lows last week, had been "rapid" since late May, said Shinohara, who was vice finance minister for international affairs from 2007 to 2009. The rapid change left the market sensitive to any comments from authorities.
The yen traded at 123.64 to the dollar at 5:51 p.m. in Tokyo on Thursday.
The foreign exchange market may now have priced in expectations that the U.S. Federal Reserve will increase interest rates later in 2015 while Japan's central bank keeps its easy monetary policy for some time, said Shinohara.
Fed Chair Janet Yellen said late last month that it would be appropriate to start raising rates at some point this year.
Before it's here, it's on the Bloomberg Terminal.
LEARN MORE