Europe Stocks Pare Gain as IMF Says Fails to Make Greek Progress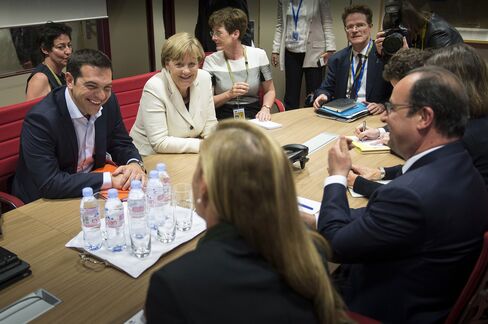 European stocks pared gains after the International Monetary Fund said that its team negotiating with Greece left Brussels after failing to make progress on a deal.
The Stoxx Europe 600 Index added 0.6 percent to 393 at the close of trading, after earlier rising as much as 1.2 percent. The IMF cited "major differences" for the withdrawal of its team, although it left the door open for further debt talks. The decision comes amid increasing criticism from creditors at the Greek government's refusal to bow to their demands, risking a default and ultimately an exit from the euro area.
"European equities are good value, investors are more fearful then they should be," said John Haynes, head of research at Investec Wealth & Investment in London. "We are relaxed with the Greek risk and we will end the year higher than where we are now, which makes Europe a decent place to invest."
Greek Prime Minister Alexis Tsipras has promised Germany and France that he will step up efforts to find a package of reforms and budget fixes to release financial aid. He has until the end of the month to reach a settlement before the country's bailout agreement expires.
Greece's ASE Index closed up 8.2 percent, the most among western-European markets, before the IMF's statement. Eurobank Ergasias SA, Piraeus Bank SA and National Bank of Greece SA jumped more than 16 percent.
Shares Rebound
The Stoxx 600 rebounded on Wednesday from a six-day drop that took it to a three-month low on Tuesday. Even with lingering concerns over Greece, European Central Bank stimulus is providing a floor to drops as traders increasingly view them as buying opportunities. In past instances when the Stoxx 600 fell for six straight days, it ended in gains of more than 7.5 percent in the following month.
LVMH Moet Hennessy Louis Vuitton SE climbed 2.5 percent after JPMorgan Chase & Co. raised its rating on the stock to the equivalent of a buy, saying the company's growth rate this year may be among the best in the luxury industry.
Read this next:
Royal Mail Plc fell 4.5 percent as Britain's new government sold half of its 30 percent stake in the company. Schneider Electric SE lost 1.5 percent after JPMorgan noted the company said at a conference that the second quarter was off to a "weaker-than-expected start." Alstom SA dropped 3.2 percent after a report that the European Commission may say that General Electric Co.'s bid for the French company will harm competition.
Before it's here, it's on the Bloomberg Terminal.
LEARN MORE