Demirtas Likens Erdogan to Dangerous Truck Driver Out of Control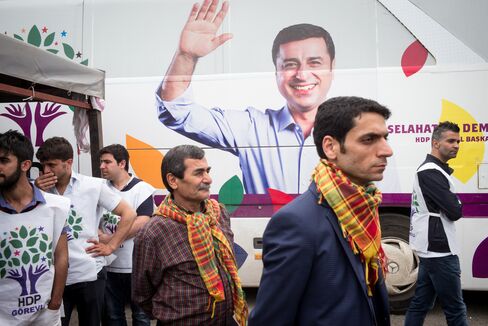 Turkish President Recep Tayyip Erdogan was a "truck driver" out of control who posed a danger to his country, said the head of the pro-Kurdish party that cost the Turkish leader his majority in parliament.
Selahattin Demirtas, co-chair of the opposition HDP party, said in an interview with Bloomberg that he and his colleagues are determined to reopen probes into allegations of corruption and cronyism while Erdogan was prime minister.
"He'd turned into an uncontrollable, unaccountable force and this was a great danger to everyone," Demirtas said in an interview in Ankara. "He was a truck driver going down a hill, his brakes were gone and he was driving and we were sitting in the back."
Erdogan's AK Party, hurt by an economic slowdown, a corruption probe and his ambition to concentrate power in the president's office, failed to win enough votes in Sunday's election to form a single-party government. HDP won seats for the first time.
Demirtas said his party opposes joining a coalition led by AKP and would only support a coalition government if it backs the continuation of peace talks with Kurdish rebels.
"We think AKP is worn out and dirtied," he said. "Apart from this, all coalition options can be debated."
Demirtas said HDP will seek a new parliamentary investigation into corruption allegations that broke into the open in December 2013 and were eventually hushed up by the government. Businessmen close to Erdogan were suspected of negotiating billions of dollars in contracts with officials. An Iranian gold trader was accused of bribing three members of cabinet. Investigators alleged that state-run banks facilitated trade with Iran and provided loans to clients handpicked by Erdogan for government-funded deals.
Renew Probe
"We think the parliamentary investigation needs to be opened again," Demirtas said.
Erdogan, who was elected as president in August, has repeatedly dismissed the corruption allegations as a "coup plot" by U.S.-based Islamic cleric Fethullah Gulen and his alleged supporters. Gulen, a onetime Erdogan ally turned rival, has denied the charges.
Erdogan's government has had hundreds of police officers and prosecutors involved in the graft probes reassigned, fired or tried for treason. In January 2014, parliament voted against sending four former cabinet ministers to trial.
The HDP is closely identified with Kurds' aspirations for autonomy, and has ties with an outlawed armed group that's been fighting for that goal since the 1980s. Tens of thousands have died in the violence, and in 2012, the AKP began peace talks with the Kurds that have since stalled.
Demirtas blamed the AKP for the breakdown and said his party would support a return to peacemaking. Talks with Abdullah Ocalan, the imprisoned leader of the Kurdistan Workers' Party, or PKK, need to "continue where they left off" to ensure the PKK completely disarms, he said.
Before it's here, it's on the Bloomberg Terminal.
LEARN MORE