Credit Suisse: Stocks Aren't in a Bubble Yet, but There's a Good Chance They Will Be
Is a bubble inevitable?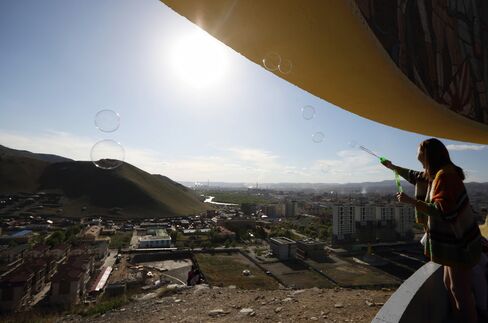 The potential for a bubble in the equities markets seems like a daily conversation at this point. Stocks are sitting near record highs with few drivers in either direction. Some are arguing there is more room to the upside, some say we're simply in a boring market, and others say it's time to lower your risk.
Thomas Murphy, Sydney-based managing partner and co-founder of Family Office Research & Management Pty, told Bloomberg last week that stocks around the globe are overvalued by most measures, and there was a debate between well known economists Jeremy Siegel and Robert Shiller.
Credit Suisse is out with a note this morning jumping on the "more room to run" bandwagon, although it hedges itself a bit by saying there is a strong potential for a bubble to form.
We believe there is a 60-70% chance that a bubble could form...(but we're) not a bubble yet: On our bubble scorecard, only c1.5 out of 8 factors...are flashing amber.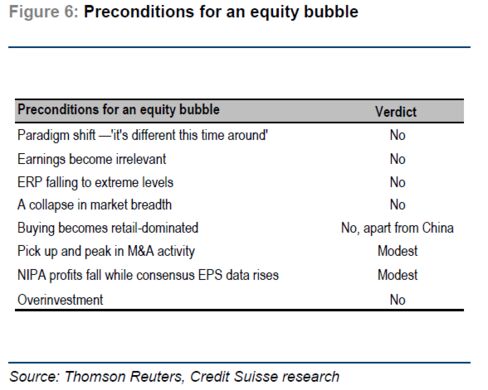 One of the first things they looked at were P/E valuations. The analysts found that in previous bubbles, they hit an average P/E ratio of about 28 times earnings. That would imply an additional 60 percent upside to current levels in the U.S. if earnings do not change.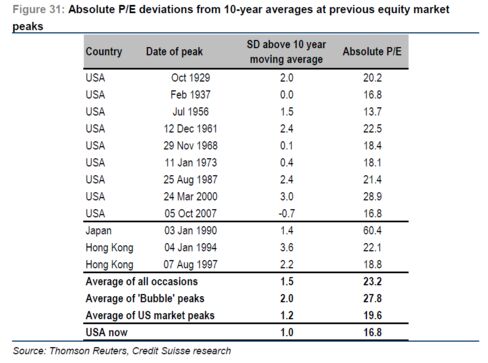 But perhaps the most interesting data in the note is in the table below. The team looked at multi-year bull markets, which have lasted for a median of 18 years with a median real gain in the equity markets of 380 percent.
In that context, the current bull market, which we judge to have begun in 2009, appears relatively small, with a gain of 152% in real terms over 6 years. Notably, the US market is only 7% above its previous secular bull market peak in real terms.

However, take all of these things into account, and the analysts are pretty worried about the future of the stock market.
In our view, the conditions for significant equity overvaluation are falling into place.
So what are some of the reasons that the team believes there is a better chance than not that we reach another bubble? Excess liquidity and loose monetary policy, retail investors remain largely on the sidelines meaning there are still people waiting to buy, and the team's belief that U.S. profits are not as vulnerable as some may think.
To the last point, although the tech and pharmaceutical sectors have extended EBITDA margins, the overall market is pretty in line with its long-run average.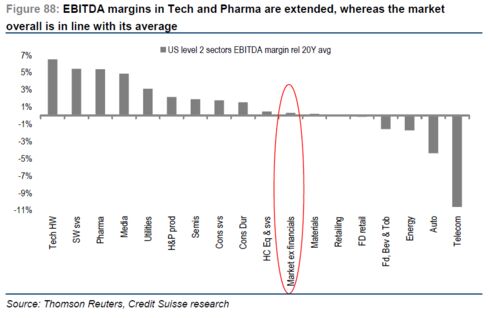 Before it's here, it's on the Bloomberg Terminal.
LEARN MORE