Another Day, Another 15% Move for Dubai's Silent Stock Winner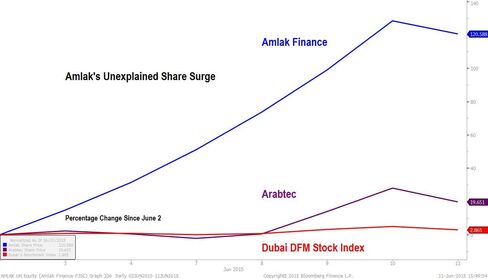 Not even Amlak Finance PJSC can explain why its stock has more than doubled in seven trading days.
The Dubai financial-services company said in a statement Thursday before the bourse opened that it has no information on why the shares have risen the maximum allowed almost every day since resuming trading on June 2 after a six-and-a-half-year suspension. The stock was halted in November 2008 before being rescued from insolvency by the United Arab Emirates' government.
The shares surged as much as 15 percent before closing 9.9 percent lower, trimming the gain since Tuesday last week to 106 percent.
"There is no reason for this move, and speculation and gambling have now completely taken over Dubai's market," Wadah Al Taha, the Dubai-based chief investment officer of Al Zarooni Group, said by phone today. "This is the sort of thing that harms our stock market's reputation."
Dubai's DFM General Index was one of the world's most volatile last year. The gauge surged about 60 percent through May 2014 before sinking more than 20 percent in June amid speculation that Arabtec Holding Co., the emirate's largest publicly traded construction company, was losing government backing.
Arabtec climbed 13 percent and 12 percent in two trading days this week. It said Thursday it had no further disclosures to make on a project to build 1 million units in Egypt, responding to comments made two days earlier by Egyptian Housing Minister Mostafa Madbouly that talks between the government and the company have resumed. Its shares dropped 9.9 percent at the close after rising as much as 5.1 percent
"It's like we haven't learned from our mistakes," Al Taha said. "We need a significant change in the U.A.E.'s trading culture."
Dubai Drops
Arabtec led declines in Dubai's DFM General Index, which decreased the most since March. The company's estimated price-to-earnings ratio for 2015 is 22, data compiled by Bloomberg show, well above the index's ratio of about 14. There's no comparable data for Amlak.
Retail investors from the six-member Gulf Cooperation Council dominated trades in Amlak last week, according to data compiled by the brokerage unit of National Bank of Abu Dhabi PJSC, the U.A.E.'s biggest lender by assets. Institutional buyers, on the other hand, have been cautious about a stock that locked shareholders in for years.
The DFM General Index's 10-day volatility jumped to 25, the highest in more than six weeks, from about 18 at the end of last week. The tandem moves between the gauge and the Bloomberg GCC 200 Index, which tracks the top 200 equities in the six-nation Gulf Cooperation Council, fell to a one-year low of 63 percent from about 80 percent last week.
Before it's here, it's on the Bloomberg Terminal.
LEARN MORE