U.K. Aerospace Spurns EU Exit Early After Lesson From Scotland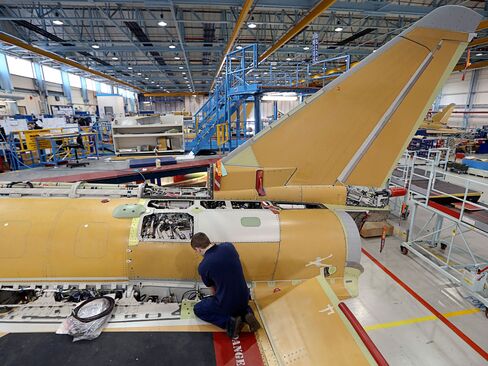 The U.K.'s aerospace and defense trade group spurned a British exit from the European Union, speaking out more than two years before the proposed referendum date after regretting its late entrance to last year's Scottish independence debate.
In a survey of 900 members of the Aerospace, Defence and Security trade body, 86 percent of respondents said they would choose to remain in the EU if faced with a vote, according to a report by KPMG published Thursday. Just 2 percent said they would vote to exit, most of which were companies with annual revenue of less than 10 million pounds ($15.5 million).
The aerospace industry is entering the EU debate early, after being absent until the final months leading up to a September referendum on Scotland's place in the U.K. Re-elected Prime Minister David Cameron has pledged to hold a vote on Britain's position in the EU near the end of 2017, giving himself time to negotiate better terms with counterparts including French President Francois Hollande and German Chancellor Angela Merkel as he looks to appease Britain's euro-skeptics.
"We all watched the Scottish referendum, and comments were made from industry, and we made our own views clear at various different times, but it wasn't a very comfortable process," ADS CEO Paul Everitt said in a briefing with reporters. "We sidelined ourselves and we felt that that wasn't helpful once the debate actually started."
Access to the EU's single market, free movement of employees across borders, and having a seat at the negotiating table when regulation is formed were among reasons most cited by the companies surveyed in the ADS-commissioned report.
More Investment
"Industry in the U.K. is operating on a global stage," said Nigel Steen, chief executive officer of Airbus Group NV- supplier GKN Plc, in the report. "Membership of the EU gives it the opportunity to participate in decision making including the setting of regulation, which will impact the industry, irrespective of our EU membership."
The aerospace industry wants greater representation for the U.K. in the single market ahead of talks scheduled for next year which will determine how EU funding will be distributed after 2020, Everitt said. Access to more investment will help the industry mitigate the impact of the new government's plan to reduce spending by as much as 30 billion pounds by 2018, cutting into defense and research and development budgets.
An exit would also jeopardize foreign direct investment, the report said, with 95 percent of foreign-owned ADS members saying they would prefer Britain to retain membership. The report refers to comments made last month by head of Airbus U.K., Paul Kahn, that losing membership would probably impact the unit's ability to secure funding from its headquarters in Toulouse, France.
"If we were to leave the EU, the house doesn't fall down overnight, what happens is it gets harder for U.K.-based businesses to win incremental investment," Everitt said.
The impact would be felt by companies cooperating on pan-European projects such as the Eurofighter Typhoon and Airbus's A400M aircrafts, impacting the likes of BAE Systems Plc, the report said.
Before it's here, it's on the Bloomberg Terminal.
LEARN MORE