Dyax's Threat to $630,000 Shire Drug Makes It a Target
Dyax Corp.'s promising treatment for a rare genetic disorder threatens Dublin-based Shire Plc's fastest-growing medicine. That makes the $3.6 billion U.S. biotechnology company a potential takeover target.
Shire's Cinryze is the only approved therapy right now to prevent bouts of hereditary angioedema, or HAE, a disease that can be fatal. The treatment, which costs as much as $630,000 annually, generated $503 million of revenue last year and is projected to become Shire's second-biggest drug by 2017.
Dyax's medicine for the same ailment, DX-2930, showed encouraging results in an early-stage trial whose findings were released in April. They suggested the treatment may work better than Shire's, and sent Dyax shares up 71 percent in three days. As pharmaceutical companies hunt for targets with orphan drugs and other lucrative treatments to sustain their growth, Dyax could emerge as the next takeover prize.
"Any of the key players in orphan drugs could be interested," said Michael Yee, an analyst at RBC Capital Markets in San Francisco. That includes Sanofi, Alexion Pharmaceuticals Inc. and BioMarin Pharmaceutical Inc., as well as Shire, Yee said.
Dyax may fetch as much as $39 a share in a takeover, Yee said. That's about 60 percent more than the Burlington, Massachusetts-based company's current share price, and almost three times higher than where it traded at the start of the year.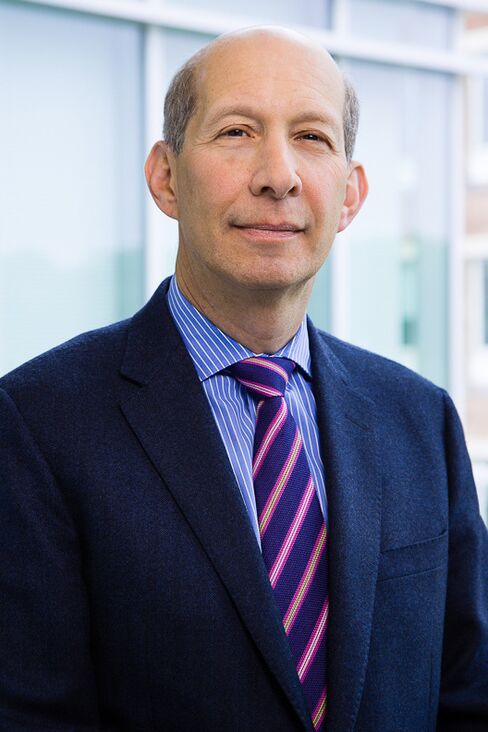 While Dyax has a duty to consider any offers, its ambition is to build a significant orphan-disease company, said Burt Adelman , the company's chief medical officer. Adelman, a former Biogen Inc. executive, joined Dyax in 2012.
Representatives for Sanofi, Alexion and BioMarin declined to comment on whether they are interested in Dyax.
Dyax shares climbed 1.4 percent on Thursday to $24.88 at 11:05 a.m. in New York.
'Interesting' Results
Shire CEO Flemming Ornskov told analysts on April 30 that the Dyax trial results are "very encouraging and interesting." The $49 billion drugmaker has grown through a flurry of acquisitions, including the takeover of rare-disease treatment developer NPS Pharmaceuticals Inc. this year, and Ornskov has hinted at more acquisitions to come.
A representative for Shire said in an e-mailed statement on June 5 that the company "has a full program of current and potential programs in HAE, and we will continue to monitor the HAE landscape and act appropriately."
Shire's Cinryze prevents HAE attacks, which result in painful swelling of the hands, feet, face and airway, and can lead to hospitalization or even death if oxygen is blocked. The drug has demonstrated a 50 percent reduction in attacks. Results from the early-stage trial of Dyax's DX-2930 showed an 88 percent drop in attacks in a high-dose group and a 100 percent reduction at a lower dose, versus a placebo.
Waiting Game
Dyax will need to replicate good results in a larger trial, and potential buyers such as Shire may wait for that, said Guillaume van Renterghem, an analyst at UBS in Zurich.
While Dyax's trial raises questions about how well its medicine works in severely affected patients, the company sees no reason why DX-2930 wouldn't work across a broad range of patients, Adelman, the chief medical officer, said.
Dyax Advantages
The drug may be effective with two injections a month, compared with about twice a week for Cinryze. And Dyax may offer an advantage with a pen-like shot in the arm or thigh, while Cinryze requires intravenous injections.
"DX-2930 could well impact Shire's business several years down the road," Jefferies analyst David Steinberg said in a note.
Shire is working on its own pen-like version of Cinryze. It also sells Firazyr to treat HAE attacks, but Dyax's DX-2930 could cannibalize those sales as well, according to RBC Capital's Yee.
Shire -- with a tax base in Dublin and executive offices in Lexington, Massachusetts -- can raise its debt, which was $2.6 billion at the end of the first quarter, to $12 billion without seeking shareholders' approval, according to Barclays Plc analyst Michael Leuchten.
Shire had been interested in Salix Pharmaceuticals Ltd., Bloomberg reported in February. Salix, bought instead by Valeant Pharmaceuticals International Inc., also makes a product to help treat HAE attacks, as does CSL Ltd. of Australia. Like Shire and Dyax, BioCryst Pharmaceuticals Inc. is targeting prevention.
Dyax may receive a "breakthrough therapy" designation on DX-2930 from the U.S. Food and Drug Administration this summer and will say more about its pipeline at an investor event in New York in November, Yee said. The company has technology partnerships with Biogen, Eli Lilly & Co. and Amgen Inc., and gets royalties from Lilly on a cancer drug.
"Dyax has a game-changer in DX-2930," he said. "A lot of orphan companies would probably like to own this asset."
Before it's here, it's on the Bloomberg Terminal.
LEARN MORE