San Francisco Giants' Chris Heston Throws No-Hitter at N.Y. Mets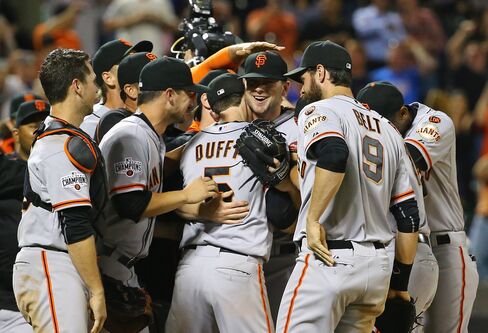 Chris Heston pitched the first no-hitter of the 2015 Major League Baseball season in his 15th career game as the San Francisco Giants won 5-0 at the New York Mets.
The only three baserunners against Heston on Tuesday night at Citi Field all came when the right-hander hit batters with pitches. He struck out 11 and didn't walk anyone.
Heston, 27, a 12th-round draft pick in 2009 by the Giants, is in his second major league season after a long path through the minors. He improved to 6-4 in 12 starts this season, after not having a decision last year in three appearances.
"I'm still not sure what just happened out there, to be honest with you," said Heston, who slapped his hands together after the final out in celebration before getting wrapped in a hug by catcher Buster Posey.
It was the 17th no-hitter by a Giants pitcher, including four in the past four seasons -- the previous one was by Tim Lincecum against the San Diego Padres less than a year ago on June 25, 2014.
The Mets had not been no-hit since the Astros' Darryl Kile did it in a 7-1 win at Houston on Sept. 8, 1993, and hadn't been held hitless at home since 1969.
Heston, who had two hits of his own on Tuesday and drove in two runs with a fourth-inning single, grabbed a spot in the Giants' starting rotation when Matt Cain started this season on the disabled list.
In the fourth inning, Heston hit consecutive batters Ruben Tejada and Lucas Duda with pitches, but got out of the jam by getting Michael Cuddyer to ground into a double play. He hit Anthony Recker with a pitch in the ninth inning.
After hitting Recker, Heston struck out the next three batters -- all on called third strikes -- to complete his no-hitter.
"It's fun to see good things happen to good people," Posey told reporters.
Before it's here, it's on the Bloomberg Terminal.
LEARN MORE