Once Bitten Twice Shy as Irish Bank Investors Burned by Politics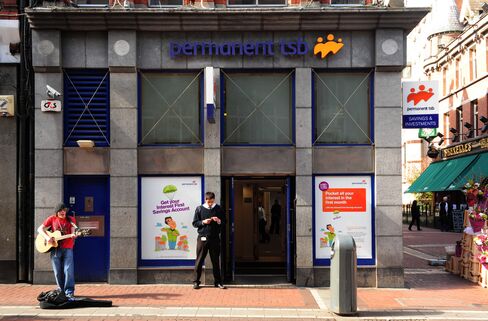 As Ireland prepares to start offloading its biggest state-owned bank, investors can draw this lesson from the sale of the smallest: buyer beware.
Days after Permanent TSB Group Holdings Plc investors paid top dollar to buy into the lender six weeks ago, the government began pressing lenders to cut mortgage rates. In Dublin on Wednesday, the nation's financial regulator warned that the European Central Bank is worried by the impact of political pressure on the banking system.
"It shows you the danger of dealing with highly-regulated financial institutions that have a lot more constituents than just shareholders," said Porter Collins, managing member at Seawolf Capital LLC in New York, which bought PTSB shares in the placing. The issue "muddies the story of what has otherwise been a fantastic turnaround at the bank and in Ireland."
The government's campaign helped push PTSB's shares down as much as 10 percent in Dublin after they were sold at the top of an indicative price range. It also highlighted the pressures facing banks even as the government readies the disposal of a stake in Allied Irish Banks Plc, in what promises to be one of Europe's biggest share sales in recent years.
"The government will approach the pricing of AIB differently," said John Cronin, an analyst with Investec Plc in Dublin. "There's a real risk in going too aggressively in pricing AIB, as it could really sour investor sentiment towards Ireland."
Bond Sale
The yield on Irish 10-year bonds has plunged to 1.7 percent from a peak of 14.2 percent in July 2011, when investors shunned the nation's debt on concern that the mounting cost of saving the banking system would push Ireland into bankruptcy.
The country's debt office sold 750 million euros ($843 million) of 2030 bonds in Dublin on Thursday at an average yield on 2.22 percent. In February, the same bond sold at a yield of
1.56%
With the sector in recovery, the government is starting to sell some of its vast banking stakes to pay down debt. Ireland's debt level peaked during the financial crisis at about 125 percent of gross domestic product in 2013, up from 25 percent in
2007.
Six weeks ago, Irish Finance Minister Michael Noonan set about returning PTSB to private hands. In a sale co-ordinated by Deutsche Bank AG, PTSB and the government sold 525 million euros of shares at 4.50 euros, the very top of a range which began at
3.90 euros. Davy, Ireland's largest securities firm, was joint bookrunner on the deal.
Within days, Noonan said he planned to start talks with nation's main banks on mortgage rates. With analysts estimating that PTSB's lending margins would be worst hit, its shares plunged. PTSB declined to comment.
Frustrated Investors
"Though the market set the price, there is likely some frustration with new investors at the level of the 4.50 euro placing," said Jonathan Tyce, an analyst at Bloomberg Intelligence in London. "The margin pressure and mortgage pricing scrutiny subsequently accelerated, so sentiment deteriorated."
Speaking to reporters in Dublin on May 22, Noonan said there was "no undue delay" in the timing of his intervention on interest rates.
"I was waiting for an appropriate opportunity after having made an assessment of what the situation was," Noonan said, disputing the notion that his intervention will hurt the sale of AIB. "Happy customers make for profitable banks."
AIB Sale
Noonan has flagged an initial 25 percent sale of AIB as early as the fourth quarter, though he has also said the timetable may slip into 2016.
PTSB shares have recovered some ground. Yet at 4.35 euros on Thursday, the shares remain below the placement price, and have underperformed the Stoxx 600 banks index over the last month.
The Irish banking sector remains "frail," financial regulator Cyril Roux told lawmakers in Dublin on Wednesday, warning that the ECB is concerned over the impact that political pressure may have on bank profit.
"You have to be very careful what you wish for," Roux said.
Before it's here, it's on the Bloomberg Terminal.
LEARN MORE