Mitsubishi Eyes European Orders for Japan's First Passenger Jet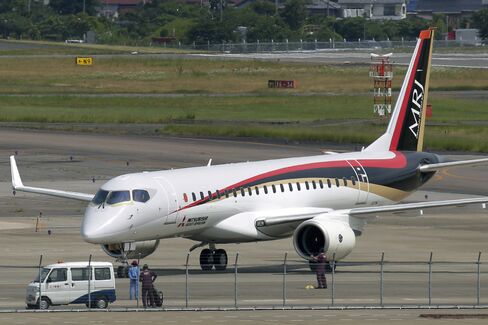 Mitsubishi Aircraft Corp., which is developing Japan's first passenger jet, says the company is looking to expand its business in Europe and the Middle East and expects its first orders from there soon.
"We have already received inquiries from Europe," President Hiromichi Morimoto told reporters in Nagoya, Japan Wednesday in his first press conference since taking the company's helm in April. "I hope we can soon report the receipt of orders."
Mitsubishi Aircraft recently opened a sales office in Amsterdam to expand its presence on the continent, Morimoto said. The company will show a mock up of the MRJ regional jet at this month's Paris Air Show, Morimoto said.
The MRJ, powered by Pratt & Whitney turbofan engines, will test whether a new entrant can break the hold of Embraer SA and Bombardier Inc. on the market for small passenger jets. Boeing Co. and its European rival Airbus Group SE dominate the market for larger passenger planes, while Commercial Aircraft Corp. of China, or Comac, is developing its own large jet.
Flight Delayed
Mitsubishi is building 78- and 92-seat versions of the plane, developed at a cost it estimates at 180 billion yen ($1.5 billion). The company plans to develop 100-seat versions in the future.
Mitsubishi started low-speed taxiing tests this month and said in April that the jet's maiden flight will be postponed to September or October. Since announcing plans in 2008 to build the planes, the company has pushed back the date for test flights four times.
One advantage Mitsubishi has is an order book, including options, for 407 jets. All Nippon Airways Co. will be the debut carrier, with deliveries starting in April-June 2017, four years later than originally planned. Another five carriers also have placed orders for the MRJ.
Mitsubishi says it wants eventually to win half the global market for regional aircraft. Montreal-based Bombardier is focusing on its new CSeries jet, also delayed, which will be able to carry as many as 160 passengers.
Japan Versus China
Japan and China are leading an Asian race to compete for regional jet orders. China's first regional jet, Comac's ARJ21-700, received an airworthiness certificate in December and will be delivered to Chengdu Airlines by the end of this year, according to Xinhua News Agency.
In addition, Japan's Honda Aircraft Co. is preparing to deliver a small business jet this year that can seat as many as six passengers. Honda Aircraft has received orders for more than 100 of the planes, President Michimasa Fujino has said.
Before it's here, it's on the Bloomberg Terminal.
LEARN MORE