To judge by government data, there's essentially no inflation in the U.S. economy. The latest Consumer Price Index actually shows a 0.2 percent drop in prices from April 2014.
Just try telling that to millions of renters who have seen their monthly rent checks rise 3.5 percent, on average, over the past year. Families shouldering college tuition payments or child care expenses, up 3.7 percent from last year, will also find the notion of an inflation-free economy hard to accept. The official inflation rate—the number Federal Reserve Chair Janet Yellen is watching closely as she decides when to start raising interest rates—may bear little resemblance to the one experienced in everyday life, and the way inflation feels to any individual varies widely, based on demographics.
A new tool created by researchers at the Atlanta Federal Reserve Bank lets users estimate their own personal inflation rate. MyCPI builds a customized inflation rate, based on responses to a handful of questions: age, income, education, marital status, homeownership. The result is based on the CPI and government surveys of consumer spending.
Some of the worst inflation is hitting single women over 55 who rent their homes, make less than $30,000 a year, and aren't college-educated. Overall prices have climbed 1.3 percent from last year. Single men under 35 who own homes, didn't go beyond high school, and earn from $30,000 to $70,000 are actually experiencing deflation: Overall prices dropped 1.2 percent from a year ago.
The variation can be explained by how the different groups spend money. The chart below shows how much each group—let's call the women "Linda" and the men "Mike" — spends on common categories, along with how much an average person spends.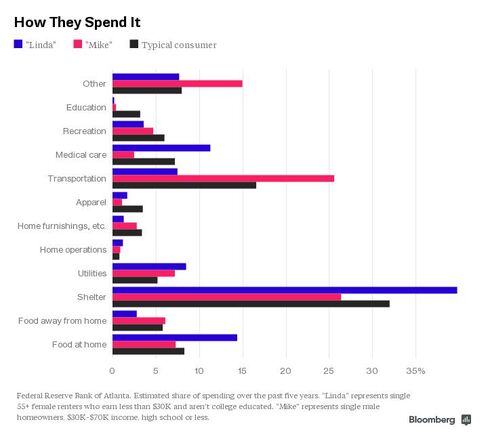 Mike spends three times more on transportation than Linda, and Linda spends 50 percent more on housing. These sorts of differences matter because the prices of different products can rise or fall at dramatically varying rates. Transportation costs are down 9.8 percent from a year ago, driven by the cheaper price of gasoline. That helps almost every American who owns a car, and it particularly helps young families that tend to drive more.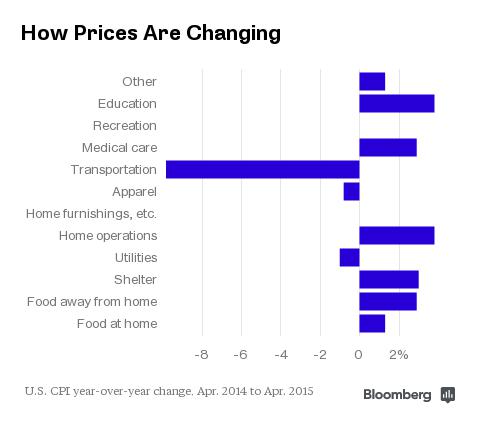 The Atlanta Fed's tool is useful for letting you know what sort of inflation people like you are feeling. Users can sign up for monthly updates as new CPI data come out, and the Fed plans to add further data and graphics to the tool. But MyCPI is unlikely to capture your experience if you have unique spending habits. "If they're living off the grid in a yurt and driving an electric car," says the Fed's Brent Meyer, "I'm not going to pick them up."
Before it's here, it's on the Bloomberg Terminal.
LEARN MORE