India Mulls Rail Fund for Modi's China-Like Rail Revamp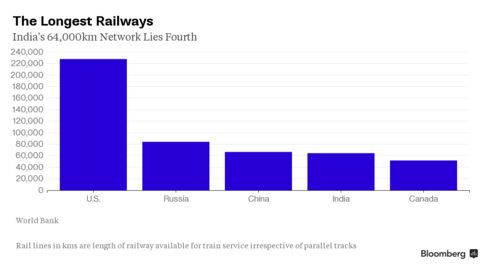 India is considering setting up a fund to pump investment into the nation's railway, according to the World Bank, as Prime Minister Narendra Modi seeks an ambitious $133 billion overhaul of Asia's oldest network.
The lender and private institutions may be among the fund's investors, World Bank India Country Director Onno Ruhl said.
"If the capital investment vehicle realizes then we're willing to invest in it," Ruhl said in an interview. "There's a concept in the Railways Ministry. We'd be a small player, ultimately leveraging other people in. Private investors would be more institutional investors in the beginning."
Raising passenger fares to fund upgrades is politically tough in India, where more than 700 million people live on less than $2 per day. Modi opened the doors to foreign investment in railroads last July, but with little success so far. That leaves open the question of how to turnaround chronic underinvestment amid congestion that can slow speeds to below walking pace.
Freight may offer the brightest opportunity for attracting inflows and funding new rail infrastructure, according to Ruhl.
"Freight is the most viable part of railways," he said in the June 2 interview in New Delhi. "The money can come to some extent from freight rates but only if you manage to make your freight performance better."
Railway Ministry spokesman Anil Saxena didn't pick up multiple phone calls seeking comment. Finance Ministry spokesman D.S. Malik declined to comment.
Investment
"If there's some initiative shown by Indian investors in the form of a dedicated fund, that will be good for the industry," said Monami Manna, an infrastructure analyst at Quantum Securities Ltd. in Mumbai. "But the key lies in the implementation."
Indian Railways seeks to invest 8.5 trillion rupees ($133 billion) through 2020, Railway Minister Suresh Prabhu said in February. The plan is an echo of the huge sums China put into railroads, including about $128 billion in 2015 alone.
Modi's vision is to add track, world-class stations and bullet trains to spur the economy. India also plans to transport more freight, such as coal, on dedicated lines.
The push to unclog a network developed partly under British colonial rule potentially presents opportunities for companies such as General Electric Co., Bombardier Inc., Titagarh Wagons Ltd. and Texmaco Rail & Engineering Ltd.
India estimates passenger fares account for 27 percent of annual receipts of 1.8 trillion rupees. Freight contributes 1.2 trillion rupees. Running costs from ferrying about 23 million passengers -- equivalent to Australia's population -- and 3 million tons of cargo daily absorb most of the railway's revenues, starving it of investment.
The World Bank is financing 1,133 kilometers (704 miles) of an 1,839 kilometer eastern freight rail link that will run from Punjab through five other states to Kolkata. Ruhl said India has also asked the lender for advice from overseas rail specialists on how to improve the network.
"You can formulate viable and profitable projects in railways and do them on project finance basis," he said.
Before it's here, it's on the Bloomberg Terminal.
LEARN MORE