Indonesia's Jokowi Builds Power With Key Jobs For Army Men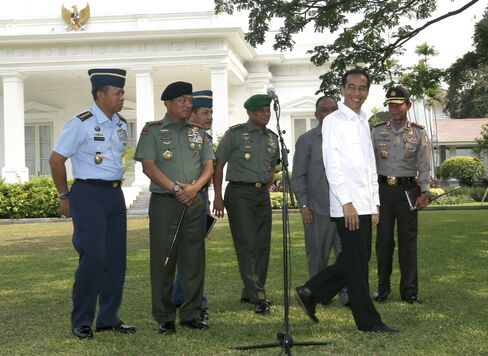 Indonesia President Joko Widodo declined to pick an air force officer as his next military chief, a further sign he's concentrating power in the army as his public popularity fades.
Widodo, known as Jokowi, nominated army General Gatot Nurmantyo to head the military, risking scrutiny when his choice is considered by the opposition-led parliament. Jokowi separately named former Jakarta army chief Sutiyoso, who goes by one name, to lead the state intelligence agency.
The appointments reflect Jokowi's focus on building support within an army that has frequently quarreled with the police force, and are a show of authority after a series of policy backflips. The head of the military, or TNI, has traditionally rotated between the various services, with the air force due a turn after current chief Moeldoko from the army retires on Aug. 1.
"It shows he's willing to ignore a core reason for the rotation system, which is to phase out the army-centric culture in TNI and to help reform," said Natalie Sambhi, an Indonesian defense analyst at the Australian Strategic Policy Institute. The move "flies in the face of building up the navy and air force for maritime policies."
Jokowi has called for a 'maritime axis' policy for Indonesia including investment in ports, a coast guard and increased defense spending. Jokowi, a furniture businessman who beat former commando Prabowo Subianto to win the presidency last year, picked Luhut Panjaitan, previously a four-star general in the army's special forces, as his chief of staff in December.
Honeymoon Over
Since then his honeymoon with international investors has ended, after a fight between the police and anti-graft agency over his pick for police chief that hurt his reform credentials, executions of foreign citizens and with the economy at its weakest in at least five years. The disputes make it difficult for the former Jakarta governor to gain traction on policies to revive Southeast Asia's biggest economy.
Jokowi promised an end to "transactional" politics, yet holds a minority in parliament and has faced pressure from his own party, the Indonesian Democratic Party of Struggle or PDI-P, for a cabinet reshuffle this year.
Sutiyoso was also a governor of Jakarta, after heading the army in the capital under former dictator Suharto in 1996-1997. In July 1996, the army and police forces stormed the Jakarta headquarters of the Megawati Soekarnoputri-led PDI-P, leading to riots.
Renewed Nationalism
In March former commando Nurmantyo went on a speaking tour of local universities where he struck nationalist themes and spoke of a "proxy" war against Indonesia by unnamed forces, which wasn't the first time he's made such statements, Sambhi said.
"At a time when there appears to be a renewed sense of nationalism in Indonesia, statements made by a panglima that victimize Indonesia risk fanning nationalist flames," Sambhi said in a blog post, referring to the Indonesian word for a military commander.
Jokowi told reporters on Wednesday that his nomination for military chief was based on "the current geopolitical circumstances," according to the Jakarta Globe newspaper.
"There are no questions about Nurmantyo's ability to be TNI commander but the decision to ignore the tradition of rotating the service heads is generally being seen as a backward step," said Keith Loveard, head of political risk at Jakarta-based security company Concord Consulting. "We've seen many areas where the army is creeping back into daily life and it appears that Widodo is happy to see this continue."
No Law
There's no law requiring the position of military chief to be rotated between the services, and it's the president's prerogative to choose, said Zulkifli Hasan, speaker of parliament's upper house.
Nurmantyo "is the perfect candidate for military chief," said Hasan. "He is very professional and has many achievements."
While taking it in turns for the military chief is not enshrined in law, Jokowi has opted for an army officer to "protect him from political shocks," said Haris Azhar, coordinator of non-government agency Kontras.
"Joko Widodo has to understand that the 'custom' is an unwritten law and made with a purpose," he said. "Therefore, if it's being erased he needs to explain the purposes."
Before it's here, it's on the Bloomberg Terminal.
LEARN MORE