Harvard Graduate Backs Hamburg Over Boston for 2024 Games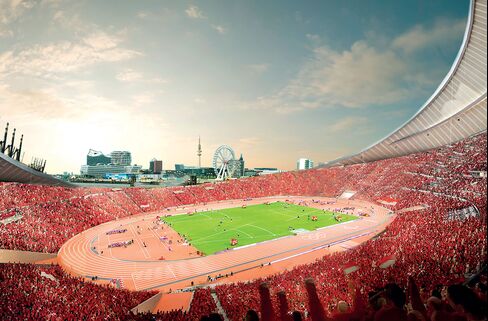 Harvard alumnus Alexander Otto has no doubts about where his loyalties lie when it comes to hosting the 2024 Summer Olympic Games. He's backing Hamburg, his birthplace, over Boston, the city that prepared him for life.
"I'm very attached to Boston, but you have to be sporting about it," the 47-year-old billionaire head of ECE Projektmanagement GmbH & Co. KG, Europe's largest shopping mall operator, said in an interview. As First Olympic Ambassador, Otto is the face of Hamburg's campaign, spearheading a group of sponsors, athletes and cultural representatives spurring support with events like the torchlight parade, attended by 20,000 participants around the Inner Alster Lake in February.
The two port towns are competing with cities including Rome and Paris to stage the world's largest sporting event last held in Germany in 1972 and in the U.S. in 1996. Six years spent following in the footsteps of Barack Obama and Bill Gates through Boston's academic chambers have given Otto some clues about how to beat Hamburg's rival when the International Olympic Committee casts its ballot in 2017.
"Local support is key to the bidding process as the Games are still nine years away," said Otto, the youngest son of the late Werner Otto, who founded the world's biggest mail-order company of the same name. He has a fortune worth $4.1 billion, according to the Bloomberg Billionaires Index.
"Boston as a university town is full of critical minds, so local support will remain a huge challenge there," he said.
November Referendum
About 64 percent of Hamburgers back their city's bid, according to a February survey, almost twice as many as the 36 percent logged in Boston area polls in March. Germany's second-biggest city of 1.8 million residents plans a referendum in November, with Boston planning to ask its citizens a year later.
Local endorsement will be heeded by the 101 IOC members deciding who wins, especially after cities including Munich and Oslo withdrew from the 2022 Winter Games race as citizens opposed bids on cost concerns, said Christian Wacker, an Olympic historian.
"Today everybody has a smartphone, so an upbeat mood can trigger social media campaigns across the web that will also affect IOC members' views," said Wacker.
World Cup
Hamburg was one of the venues for the 2006 World Cup soccer tournament held in Germany. Regular international events it stages include Germany's longest-running tennis competition at Rothenbaum, the horse jumping and dressage derby at Klein Flottbek and the ITU World Triathlon challenge.
With a program known as Agenda 2020, the IOC is seeking to tone down the cost of hosting the event, following the record $51 billion spent on last year's Winter Games in Sochi, Russia.
Hamburg's plan to deploy an area the size of 182 soccer fields on a partly disused island in the port may play to the IOC's new-found cost consciousness, which encourages bidders to use existing venues or build temporary facilities and takes effect in 2024, said Wacker.
Drawn up by international architects and engineers including Nikolaus Goetze of GMP International, the concept includes 3,000 new residential units to ease housing shortages once athletes vacate the Olympic village. A 15,000-seat Olympic Hall would be turned into a fourth cruise terminal as the port foresees passenger numbers doubling within a decade.
Olympic Catalyst
"The Olympics will be a catalyst to develop a new city quarter, and I definitely expect the extra housing supply to curb rental prices hikes," said Otto, who finished his Harvard studies with an MBA in 1994.
Post-Games proposals for the planned stadium vary from complete removal to cutting seat numbers to 20,000 from 70,000 and turning part of the grandstand into apartments.
"The legacy issue worked quite well in London 2012, but I doubt voting members from Asia, Africa or South America care if Hamburg develops a new part of the city," David Wallechinsky, president of the International Society of Olympic Historians, said in an interview.
Boston plans to integrate venues operated by its colleges, while it would have to build an Olympic stadium and village.
Though a U.S. native, Wallechinsky expects the IOC to choose Paris, which was pipped by London for the 2012 Games, because most of the sports infrastructure already exists there. Paris last hosted the Summer Olympics in 1924.
A strong argument in Hamburg's favor is that IOC president Thomas Bach is German, said Wallechinsky. "With 100 individuals voting, one could imagine that some of them would want to make a good impression on the president."
Among the world's top four economies, Germany is also the country with the longest absence from the Olympic stage. U.S. cities Los Angeles and Atlanta played host in 1984 and 1996, respectively, while China held the Summer Games in Beijing in 2008. Japan will do so in 2020 in Tokyo.
Otto, embracing his role as Games ambassador, expects Hamburg to prevail in 2024. "We want each and every Hamburger to notice that they can get something out of the Games, create social cohesion within the city," he said. "That's much easier to do in a city like Hamburg than in Paris, which sees an endless stream of events."
Before it's here, it's on the Bloomberg Terminal.
LEARN MORE