Clerical Battle for Iraq Streets Tests Limit of Iran's Power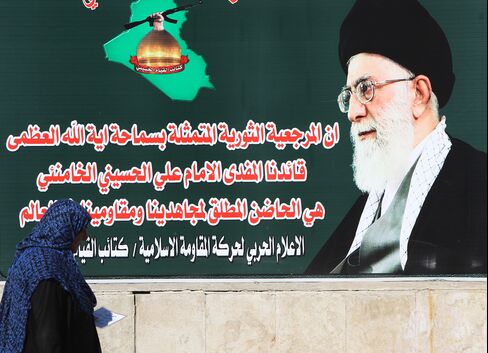 The two bearded clerics gazing from billboards in Baghdad were familiar yet out of place.
Portraits of Ayatollah Ruhollah Khomeini, the founder of the Islamic Republic of Iran, and his still-ruling successor have appeared in Iraq's capital and southern cities in recent months. Other posters feature Iranian commanders killed fighting Islamic State militants, who have spread their rule across Iraq's north and west.
While Iran is asserting unprecedented influence over its neighbor as the Shiite-led governments combat a shared Sunni jihadist foe, the images have stirred a public and political reaction that highlights why claims by Saudi Arabia and other U.S. allies of an Iranian takeover are misplaced.
Sitting outside his shop in central Baghdad, Ahmed Abdul Hussein, 45, says he doesn't know who put up the posters and they aren't welcome. It's a feeling shared by others, Shiite and Sunni alike. In recent weeks, both Prime Minister Haidar al-Abadi and top Shiite cleric Ayatollah Ali Al Sistani have said that while Iran's help and friendship is welcome, it must respect Iraqi sovereignty.
"Most Iraqis don't speak Farsi, most Iranians are not Arabs and nationalism remains a potent dividing force on both sides of the border," said Christian Emery, a lecturer in International Relations at the University of Plymouth and author of "U.S. Foreign Policy and the Iranian Revolution."
Najaf Battle
"There are geographic, economic and cultural reasons why Iran will always have some influence in Iraq," he said. "But there are also significant historical and theological differences."
The differences have been on display in the Iraqi city of Najaf. There, a street recently renamed after Khomeini is the stage for a tussle between supporters of Iranian hegemony, who paint the ayatollah's name on walls, and opponents who then obscure the signs, according to resident Ahmed Hussein.
Najaf competes with Qom in Iran as a pre-eminent center of religious study and Shiite leadership, with the former favoring clerics staying out of politics and the latter an activist Islam.
Iran's role in Iraq has increased since the 2003 U.S. invasion that toppled Saddam Hussein, raising concern among Sunni-led rivals in the Gulf. Together, Iran and Iraq hold more proven reserves of crude oil than Saudi Arabia, with Iraq the second-biggest producer in OPEC.
Militia Role
Iran's preeminence "is a factor of Iranian strength and a consequence of Iraqi weakness," said Emery, and a militarily enfeebled and financially crippled Iraq has little option but to accept it for now.
Iranian security forces have helped guard sensitive mosques during major Shiite celebrations. Iran-backed militias drawn from Iraq's Shiites are leading the offensive to retake mainly Sunni Anbar province from Islamic State after the most recent collapse of the Iraqi army.
The future of these militias, known as Hashd, will be a key test for the Iraq that eventually emerges from the conflict, said Sasan Aghlani, a researcher at London-based Chatham House.
Sunni Concerns
"Hashd will have years of battlefield experience, a command structure and people will rely on it but my guess would be that it won't become another Hezbollah," he said, referring to the Iran-supported militant group in Lebanon. "The way it has evolved over six months has shown it to be very Iraqi," he said. "Some fighters might go back to their jobs, others might be integrated into the security forces."
Iraq's Sunnis especially have been alarmed by the rise of the militias, sparking fears of a spike in sectarian violence and even a fracturing of the country along religious lines.
Sunnis say they've been marginalized by Shiite-led governments and have been targeted by the militias, sentiments that led some to side with Islamic State. Yet geographical realities can't be ignored.
"Iran has built solid relationships with all Iraqi governments," said Nahida al-Dini, a Sunni lawmaker from Diyala province. "We want good bilateral relations."
Lead Role
Even with its leading role in the war, Iran wasn't present when Abadi appealed to a Paris meeting of the anti-Islamic State coalition this month for more weapons and intelligence sharing. The long-standing enmity between the Islamic Republic and the U.S. and its allies hinders military cooperation. Sunni Gulf monarchies accuse Tehran of seeking to build a Shiite crescent in the region, most recently with its support for Houthi rebels in Yemen.
In the vacuum left by the U.S. after it pulled its last troops from Iraq, Tehran has seen a chance to both boost its own security and mold the region to its own advantage, according to analysts.
If Islamic State can be defeated without Iraq splitting, Iran hopes that the two countries together could form "the backbone of the new Middle East," said Afshin Shahi, director of the Centre for the Study of Political Islam at the U.K.'s University of Bradford.
"This is why the supreme leader has said Iraqi security is our security, and why Iran has provided more than $1 billion to help fight Islamic State," he said.
Iraqi Backlash
The propaganda battle on the streets of Baghdad is meant as a rallying call, said Arshin Adib-Moghaddam, head of the Iran center at London's School of Oriental and African Studies.
Iranian leaders are attempting "to create a common Iraqi-Iranian narrative that would be strong enough to sustain the battle against ISIS," he said, using another name for Islamic State. "The imagery of martyrdom for a 'noble' cause is a powerful symbol in Islamic mythology, and in particular" in Shiism, he said.
Many Iraqis fled to Iran during the 1980s when Saddam cracked down on the country's Shiite majority during a eight-year war between the neighbors that left more than a million people dead. After his fall, some of those who returned joined Iraq's ruling elite, strengthening political, economic and social links to Iran.
For Ayatollah Sistani and others, though, the appearance of Iranian spiritual leaders on Iraqi billboards, Farsi slogans painted on walls and the social media omnipresence of Iranian commanders on Iraqi battlefields have proved too much.
"There has been a backlash in Iraq at the grassroots and at the highest political and religious levels," Hayder al-Khoei, an analyst at Chatham House, said during a panel discussion last month. He said that one message addressed to Iran from Iraq's Shiites has gone viral on twitter: "Oh stranger, behave yourself."
Before it's here, it's on the Bloomberg Terminal.
LEARN MORE