City Day Care Lets Paris Moms Work, First Female Mayor Says
Paris may be home to some of Europe's largest companies and best art museums. Mayor Anne Hidalgo says her key advantage in competing against the world's cities is its cheap and widely available child care.
In the French capital, 87 percent of women of working age are in the labor force, in part thanks to a network of day-care centers that take kids as young as three months old and a public-school system that accepts them at three years.
"This model gives women the opportunity not to choose between having a child and having a professional life," Hidalgo said in an interview. "That is very important because it allows an entire middle class to be able to work. It will support the economy, it will push the economy."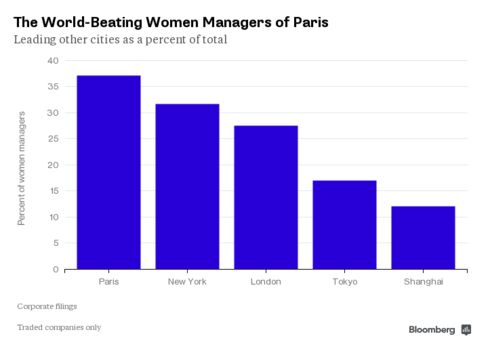 Nationwide, 83 percent of French women between the ages of 25-55 are in the workforce, according to state statistical institute Insee. That compares with about 75 percent in the U.S., according to the Bureau of Labor Statistics.
At the corporate level, Paris women are more present than elsewhere as well. Traded companies based in Paris have an average of 37.3 percent of women in management positions, compared with 12 percent in Shanghai, 17 percent in Tokyo, 27 percent in London and 32 percent in New York, according to data compiled by Bloomberg from company filings.
French mothers -- and fathers -- have other advantages over their U.S. counterparts. The national health care system covers everyone and includes incentives for regular prenatal care. In addition, families with more than three children get a monthly subsidy from the government.
City Centers
About 45 percent of preschool children in Paris are in municipal day-care centers, compared with about 15 percent nationwide, according to the city of Paris. Day care is run by municipal authorities in France.
The cost of day care is lower for lower-income families, starting at as little as 18 euro cents ($0.20) an hour. Those with monthly take-home pay of more than 7,145 euros a month aren't eligible and must make private arrangements, though they get a tax credit for their costs.
While Parisians often complain of the difficulty of finding a spot for their three-month-olds, the situation is better than in New York, where only this year was Mayor Bill de Blasio able to attain his goal of universal pre-kindergarten -- for four-year-olds.
About 70,000 New York children have enrolled in the new program for this fall, according to the mayor's office. The federal "Headstart" program, for low-income families, is also available for children from birth to age four.
Three Children
Hidalgo's administration has pledged to add another 5,000 places in day care by 2020 on top of the existing 34,000.
The Spanish-born Hidalgo, 55, became a French citizen at 14 and is the first female mayor of Paris. She has a child with her husband, Jean-Marc Germain, a member of parliament, and two children from a previous relationship.
"Sometimes journalists ask me, because I have three children, whether I ever felt guilty because of the choices I made between my professional, political life and my family life, and I say no," Hidalgo said last week. "I've never felt guilty and my children are fine. We have to make the choice of women employment, it's an element of economic sustainability for a country and for a city like mine."
Read this next:
Before it's here, it's on the Bloomberg Terminal.
LEARN MORE