Suu Kyi Visit Marks Shift in China's Approach to Old Ally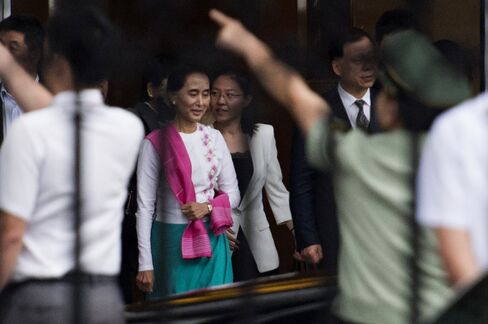 Xi Jinping's decision to meet with Myanmar opposition leader Aung San Suu Kyi marks a historic shift in China's approach to one of its oldest allies in Southeast Asia.
The meeting Thursday at the Great Hall of the People in Beijing follows four years of diplomatic dust-ups between Chinese and Myanmar leaders. By hosting Suu Kyi, Xi is showing China's frustration with President Thein Sein and preparing for the possibility that Suu Kyi's National League for Democracy party may win elections in November.
"China is adapting to the new political environment within its old ally," said Fan Hongwei, an international relations professor who specializes in Myanmar at Xiamen University. "China has a lot of geopolitical and business interests in the country, and it's diversifying its approach to safeguard those interests."
China remained one of Myanmar's few allies after its ruling junta refused to recognize the NLD's election win in 1990 and put Suu Kyi under house arrest, plunging the country into diplomatic isolation.
That relationship has been tested since a half century of direct military rule ended in 2011 with the rise of Thein Sein's quasi-civilian government. The former general has sought to reduce Myanmar's reliance on China, halting some joint projects such as the $3.6 billion Myitsone dam. He's been aided in doing that by the easing of Western sanctions that has a allowed an influx of new investment.
A flare-up in border fighting between Myanmar's military and an ethnic Chinese rebel group has further strained ties. Civilians have been killed and injured by bombs and shells falling in China's southern Yunnan province. Suu Kyi was expected to visit Yunnan as well as Shanghai during her four-day trip, the Beijing Youth Daily reported.
National Elections
The Myanmar opposition leader won a Nobel Peace Prize for promoting democracy and was in 2012 elected to parliament during by-elections. She is constitutionally barred from becoming president.
Sean Turnell, an associate economics professor at Macquarie University in Sydney, said China's invitation to an Asian opposition leader was "quite unprecedented" and says something about the country's expectations for the coming vote.
"I suspect China realizes, as some others still do not, that while the constitution may at present rule out a Aung San Suu Kyi presidency, it will not deny her significant influence," said Turnell, who has conducted seminars for the NLD and advised the U.S. Congress on the country.
China remains Myanmar's largest trading partner, with total trade valued at $10.9 billion in 2013, according to data compiled by Bloomberg. In January, Myanmar opened a 771 kilometer (480 mile) crude oil pipeline from Rakhine state to Yunnan, reducing the shipping time for Middle Eastern and African oil.
Internal Affairs
Suu Kyi's visit has been discussed since at least early 2014, as the two sides worked out the protocol for the trip. The official invitation came from the Communist Party, suggesting Xi and Suu Kyi will meet in their capacities as party leaders.
The trip is proof that the Communist Party "stands ready to engage with any political parties as long as they are willing to promote the sound development of relations with China," the official Xinhua News Agency wrote in a commentary published before her arrival Wednesday.
"There is also a reminder: China has no intention to interfere in Myanmar's internal affairs, but is determined to protect its citizens from being caught in a war launched from the other side of the border," the commentary said.
Myanmar apologized in April after a Myanmar air force bomb landed in the Chinese side, killing at least five farmers. The Myanmar government is fighting rebels from an ethnic Han Chinese group known as the Kokang in the frontier Shan state.
Business Interests
Myanmar has accused some rebels of taking refuge across the border in China and called on the government in Beijing to arrest and return them. Earlier in June, China's military announced that it would begin live-fire ammunition drills along the frontier.
China may seek Suu Kyi's help to tamp down anti-Chinese sentiment in Myanmar and preserve Chinese business interests in the resource-rich country, said Wang Zichang, professor at the Southeast Asian Studies at Jinan University in Guangzhou.
"Most of the resistance against the Chinese investment came from grassroots communities where Suu Kyi is highly respected and can sway lots of opinions," Wang said. "China seeks to leverage this influence to tone down resistance and reduce obstacles."
Before it's here, it's on the Bloomberg Terminal.
LEARN MORE