WPP's Sorrell Survives Shareholder Revolt on $66 Million Pay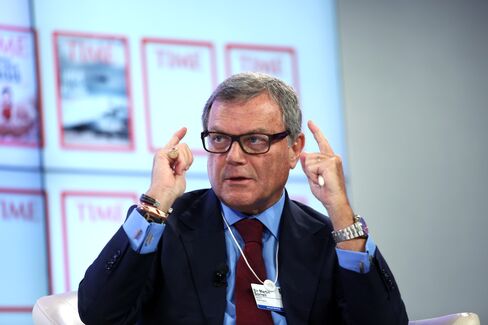 Martin Sorrell survived a revolt at WPP Plc's annual shareholder meeting on Tuesday, as only 22 percent of investors voted against approving his 43 million-pound ($66 million) pay package.
The adman's position as the best-paid chief executive of a FTSE-100 company was never under threat, because his remuneration package is binding for three years. The figures only included proxy voters, with about 2 percent of them abstaining.
The size of the protest is less dramatic than last year, when WPP said 28 percent failed to back the proposal. Still, it is evidence that shareholders in British companies remain willing to express their unhappiness at what they see as excessive rewards.
"There isn't a basis for an award this size," Luke Hildyard, deputy director of the U.K.'s High Pay Centre, an independent think tank in London, said of WPP before the vote. "With Sorrell now paid over 1,000 times as much as his average employee, they seem to have disregarded any interest in fairness or proportionality a long time ago."
Shareholder advisory groups objected to his compensation, part of an investment plan that ran at the world's largest ad company from 2010 to 2014. During that period, London-based WPP's shares rose 121 percent and its market value gained 133 percent to 17.8 billion pounds ($27 billion).
Sorrell currently earns more than twice the amount of the next highest-paid FTSE 100 chief, Royal Dutch Shell Plc CEO Ben Van Beurden at 19.5 million pounds, and the third-highest paid, Reed Elsevier's chief Erik Engstrom at 16.2 million pounds, according to the High Pay Centre.
Advertising Peers
The 70-year-old Sorrell, who built WPP into the world's largest advertising company over the past 30 years by acquiring agencies such as Ogilvy & Mather and Young & Rubicam, also makes more than his advertising peers. Omnicom Inc. the world's second-largest ad company, paid its CEO John Wren $24 million last year, while Publicis Groupe SA's Maurice Levy earned 2.83 million euros ($3.3 million) last year, the company said.
Sorrell's compensation is "wholly excessive" and "extremely outsized" compared with his peers in Europe and the U.K., shareholder advisory group Glass Lewis said in a report last week. Institutional Shareholder Services said in a separate report that the figure was exceptionally high.
News of Sorrell's compensation has made numerous headlines in recent years and investors in 2012 voted against when it totalled 11.6 million pounds. Sorrell's pay package last year was 29.8 million pounds.
Outgoing WPP Chairman Philip Lader defended Sorrell's paycheck in the company's annual report as a contractual obligation, an arithmetic computation approved by more than 80 percent of shareholders and tied to performance. He said there was a 'Sorrellcentricity' at WPP, characterized by the CEO's approach as an "owner-entrepreneur" to the business.
WPP said in its AGM trading update that 2015 looks to be another demanding year while operating-margin gains are "particularly strong." In the first four months of 2015, reported revenue was up 8 percent to 3.8 billion pounds, it said. WPP shares declined 0.1 percent to 1,485 pence at 12:16 p.m. London time.
William Morrison Supermarkets Plc suffered a similar protest last week after 38 percent of shareholders voted against its pay policies because of the 1-million-pound bonus paid to ousted chief executive Dalton Philips.
Before it's here, it's on the Bloomberg Terminal.
LEARN MORE