World's Fastest-Sinking Telco Stock Keeps Getting More Expensive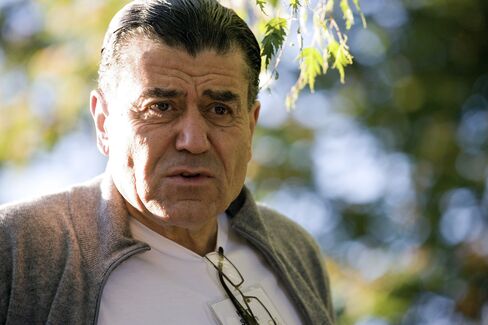 The outlook for Partner Communications Co. is so bad that the shares can't keep up.
The company part-owned by billionaire Haim Saban is not only the worst performer among Israeli equities, it's the world's worst telecommunications stock with a market value above $100 million, having lost 57 percent this year. And yet it's trading at about 19-times future earnings -- 55 percent above its average since 2009 -- as profit estimates fell even faster than shares.
"They're in a very tough competitive environment," Idan Azoulay, chief investment manager at Tel Aviv-based Epsilon Investment House Ltd., who manages about $2.4 billion, said by phone on June 8. "We don't see an improvement in profitability and it will take time for the situation to clear up. I prefer not to touch the shares in the sector at the moment."
The decline is testament to the effectiveness of an Israeli government drive to spur competition and cut prices. Cellcom Israel Ltd., the nation's largest wireless provider, has been the second-worst performing telecom share globally. Competition among operators has cut prices by as much as 80 percent, according to UBS AG.
Both Partner and Cellcom said this month they're considering issuing new shares. Partner shares dropped 2 percent at 8.822 shekels at the close in Tel Aviv. Cellcom shares lost 1.8 percent to 15.08 shekels, the lowest close on record.
"This is not the time to buy Cellcom and Partner," Tel Aviv-based Citigroup Inc. analyst Michael Klahr, who in 2011 predicted the Israeli mobile "tragedy," said by phone on June 4. "It's a very volatile business environment. The companies are still losing subscribers. I don't know when this dynamic ends."
Fight Back
Partner's 12-month earnings per share estimate has slumped 66 percent this year through yesterday. The cellular operator, which lost 63,000 subscribers in the first quarter, attracted global attention last week when the chief executive officer of Orange SA suggested it may sever relations with the Israeli company.
Partner and Cellcom are fighting back by trimming expenses, preparing to share networks with other operators and by entering new business areas including fixed-line services and television. Once wireless prices go up again, these shares could be an interesting investment, Klahr said, as just a 10-shekel increase in average revenue per user can cause a "big jump" in the bottom line.
"Current prices aren't sustainable," Klahr said. "There may be a good chance" of an increase by 2018, he said.
Cellcom said in an e-mailed statement it has preserved its client base, and is investing in long-term growth. "For the past three years Cellcom has been operating in one of the most competitive markets globally that has significantly lowered prices," it said. There was no comment from Partner.
Partner and Cellcom are both trading below their 50-, 100-and 200-day moving averages as they strive to compete in an industry that has five active mobile network providers vying for customers in a population of about 8 million.
"We have wiped-out our positions in these shares because of competition concerns," Yair Shani, chief investment officer at IBI Mutual Funds, which manages 15 billion shekels ($3.9 billion) assets, said by phone June 3. "Their revenues are expected to continue to decline because the competitive environment is still unstable."
Before it's here, it's on the Bloomberg Terminal.
LEARN MORE