This Is the First Fed Number Traders Will Look for Next Week
Federal funds rate projections may convince traders that two rate increases are in the cards for this year
When the Federal Reserve announces the outcome of its next meeting on June 17, there's one number traders will be looking for first: where officials expect the benchmark federal funds rate to be at the end of the year.
In March, the median estimate of the 17 officials who sit on the U.S. central bank's policy-setting Federal Open Market Committee was 0.625 percent -- implying two interest-rate increases this year. As of today, market participants are convinced the Fed will do one in September, but aren't so sure the central bank will follow through with the second one.
In the past, Fed officials including Chair Janet Yellen have downplayed the importance of the so-called "dots" that make up the chart of policy makers' projections for the fed funds rate. Now, with the first increase potentially only months away, the dots will provide "critical information" about the committee's near-term intentions, according to analysts led by Brian Smedley, director of U.S. rates research at Bank of America Merrill Lynch in New York and a former trader at the New York Fed.
The Fed has said it will increase the target range for the fed funds rate to between 0.25 percent and 0.50 percent when it begins raising rates. According to a New York Fed survey of the 22 primary dealers that trade directly with the U.S. central bank, the actual funds rate will settle around 0.35 percent after the first increase.
Right now, the September fed funds futures contract, which is based on the average funds rate over the course of the month, trades at an implied yield of 0.21 percent. So, the market-implied probability of liftoff by September is somewhere between 93 percent and 100 percent, according to Stan Jonas, who has been trading fed funds futures since he helped create them in 1988.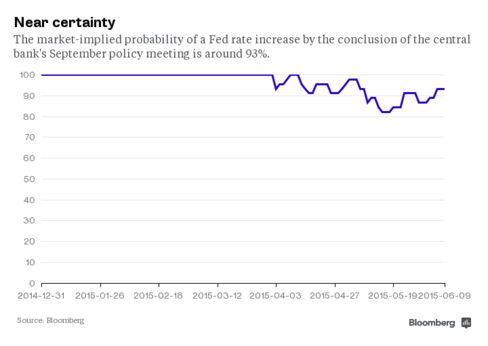 The market-implied odds of another increase by the FOMC's December meeting, on the other hand, are nearly even, he says, highlighting the uncertainty surrounding the idea of a second move this year.
If Fed officials stick to their guns and leave their projections for two rate rises this year, they may sway a few more traders to see their point of view as well.
For more on the global economy, check out Benchmark:
Before it's here, it's on the Bloomberg Terminal.
LEARN MORE