In India, where private drivers are already a middle-class staple, one man has created an entirely new category of executive wheels: the mobile office.
Indeed, the handiwork of Dilip Chhabria, an erstwhile GM engineer, is discreetly visible across India. His firm, DC design, co-opts battered Toyota Highlanders and retrofits the interiors with amenities like Wi-Fi, touchscreen TVs, soundproofing, and airline pod-style seats expressly to answer one of the city's biggest problems—traffic. Conveniently transformed, these SUVs now make short order of ever-longer commutes, turning them into just another day at the (mobile) office.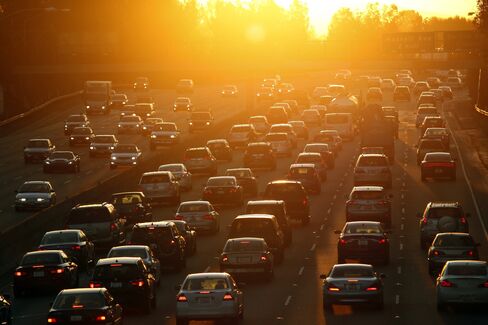 Nowhere is more fertile a base for DC's designs than Mumbai: Private vehicle numbers there have risen 57 percent in less than a decade, by one estimate, 200 new cars join the traffic jam every day. It's typical of many of the nascent megatropolises in emerging markets, from Bangkok to Brazil, Moscow to Mexico City, whose roadways have begun to buckle in the wake of the economic boom. Unfortunately—and increasingly—the situation isn't much different stateside. Just ask California businessman Mark Hyman.
"I'm born and raised in California, and years ago traffic was predictable," he explains via phone from his home, just outside L.A. "Now? It's totally unpredictable, and you have to leave a minimum of two hours early to get to a meeting even close to on time."
To address this, Hyman tapped Howard Becker, owner of Beverly Hills-based Becker Auto Design. Since starting out 40 years ago customizing cars with high-end stereos for such clients as Cher and Michael Jackson, Becker has moved into the mobile office space to become America's premier car up-fitter.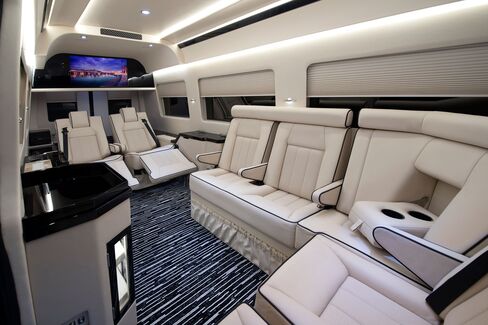 This is an increasingly lucrative market, especially given Becker's location. According to the most recent figures from traffic-tracking firm Inrix, as gross domestic product rises, miles per hour fall; for American drivers, the post-recession turnaround is a stop signal. Per Inrix spokesman Jim Bak, traffic trends show that congestion is worsening in urban centers where the tech sector is strong, such as Austin, Tex., Seattle, and San Jose, adding them to the list of already-gridlocked cities like New York (53 hours wasted in traffic per year) and Washington, (40 hours lost). Nowhere is it worse to drive than in Becker's local market: Los Angeles, whose residents waste, on average, 60 hours (that's 2 ½ days) every year in their cars.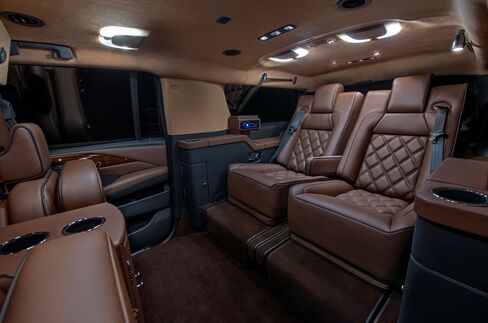 "Even in the first world, the major metropolitan areas are all behind in infrastructure," Becker says. "What drives our business is the ability for our customers to get things done, even when they're driving, as opposed to sacrificing that time. The candy red Ferrari is still in the garage for fun at weekends, but they're thinking, at least on weekdays: 'I can't afford to drive myself anymore.'"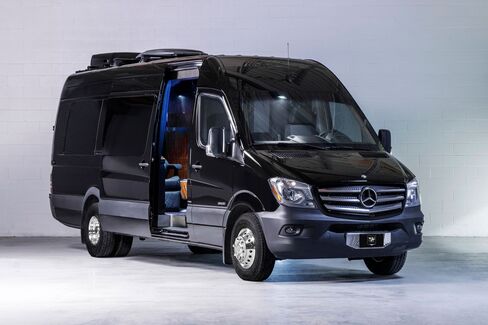 Silicon Valley has addressed this quandary, in part, by providing school bus-style transport for middle managers. But chief executive officers and celebrities require the limo world's answer to a private jet, so Becker offers two core mobile offices, one of them based on a Mercedes Benz Sprinter. Clients such as Mark Wahlberg, Dr. Dre, Johnny Depp, and Ben Affleck have opted for this version, which Becker has dubbed the "Jet Van." It can accommodate up to seven people, like a truly luxurious mobile conference room. Becker's cosier alternative is hewn from a Cadillac Escalade ESV, although this, too, can be discreetly stretched to squeeze in four conference seats.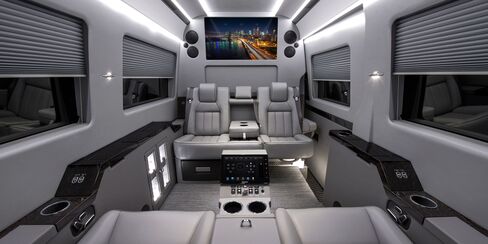 The vans may not look special from the outside, but most deskbound execs would envy the in-motion amenities Becker offers: plush leather seats, fine wood inlays, blazing fast Wi-Fi, Crestron media systems with touchscreen menus offering live TV, video-on-demand, and local programming from any major city. You can even get a printer, if you want one. "My clients can basically run most of their world, if not the world, from that position," Becker promises, his patter as smooth and practiced as you'd expect from a man who has thrived in a four decade-long career in sales.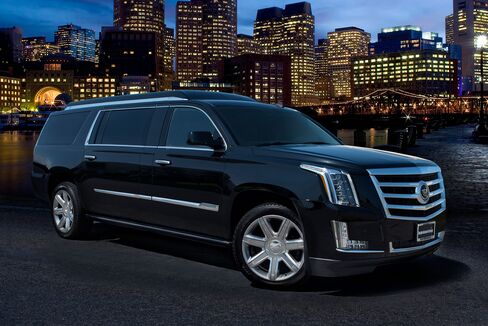 Each project begins with a consultation, after which Becker's team will create a 3D animated walk-through of the customized fit-out. They can then explore the vehicle with the client to tweak features before work begins. Often his tech-savvy clients are keen to incorporate prototypes or to beta test software on board, so Becker works with a team of IT staffers to adapt technologies to a car. "We're the bridge, the catcher's mitt, putting something that operates at 110 or 220 to use reliably on a 12-volt-oriented vehicle," he explains.
His strangest request so far was from the CEO of a NYSE-listed company (which he declines to name) who had moved the firm's headquarters from one city to another but decided not to move house himself. The corporate relocation added an hour to the executive's commute each way, squeezing his daily routine so that exercise was almost impossible.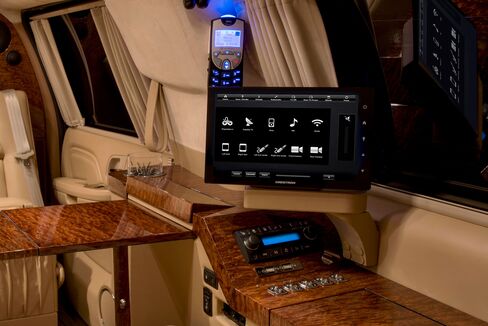 "He told me, 'I can't imagine living without cardio—can you do an exercise thing for me?'" Becker recalls. So the designer took a recumbent exercise bike and chopped it in half, replacing the standard seat with an alternative that was safety-certified for cars, then wedged the Frankenbike into the back of the SUV. "He could sit back there and pump his little heart out to his heart's content and still wouldn't go flying out if there was a front collision."
Given such complex conversions, it's not surprising that the average project takes around seven months to complete and costs between $250,000 to $450,000 for a Mercedes Sprinter re-fit.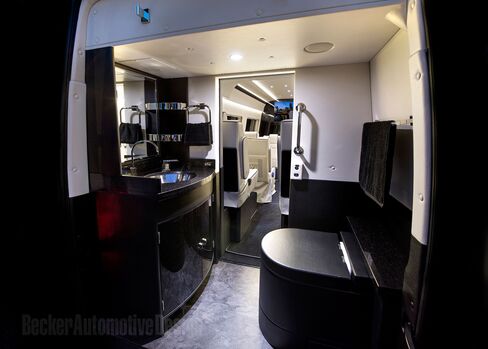 Beverly Hills-based Becker isn't the only such car customizer offering traffic jam-besting mobile office vans stateside. Matt Figliola runs AI Design in Westchester County, N.Y. A favorite of Sean Combs, Figliola charges from $150,000 to $350,000 for a similar project, plus the cost of the car. He usually installs a Pepwave mobile bonded router in his vans, a device that he claims offers speeds "similar, if not better sometimes" to those of standard Wi-Fi. It combines subscriptions to four different data providers (including Verizon and AT&T) and then bundles the bandwidth so large data files can be simultaneously split between two plans. He has even tried to snare real airline seats for his up-fits, albeit to no avail.
"They're fabulously costly things, and I tried to get them a few years ago, but they won't sell them to you unless you're FAA-certified," he sighs, speaking by phone from his office. "If you're not in the airline world, one of those seats is like a unicorn."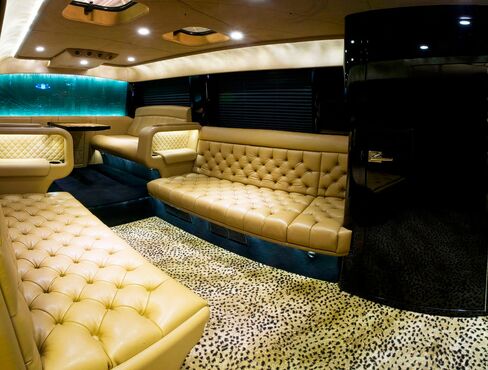 Another kind of seat, though, could be a real, well, convenience: a bathroom. Philip Daskal, whose Toronto-based firm Inkas began offering armor for luxury vehicles before moving into custom interiors and mobile offices, re-fitted a Sprinter for three quarter of a million dollars for a celebrity businessman in the Philippines. (Daskal estimates that emerging markets such as India make up more than 75 percent of his business.)
"What could take 15 minutes to drive in North America could take two to three hours in Manila, so it's forever to get to places," Daskal recalls. So alongside the 50-inch flatscreen, satellite phones, and massage seats, came the client's more practical requirement. Inkas turned to the kind of lightweight, eco-friendly toilets common on high-end yachts, installing one at the rear, complete with chrome sinks. "It even had its own exhaust, so the smell wouldn't linger."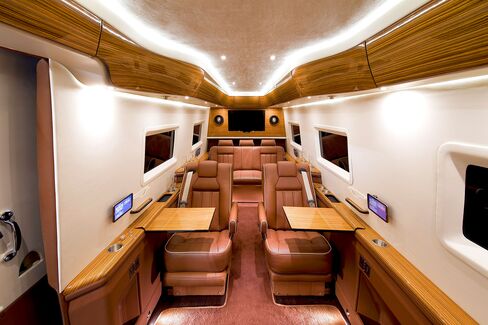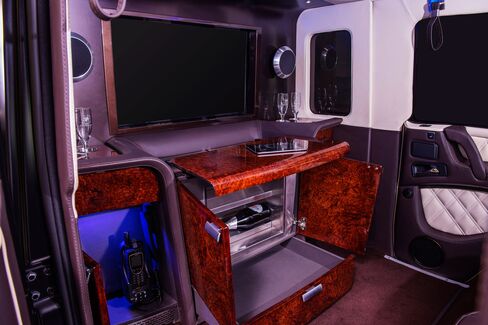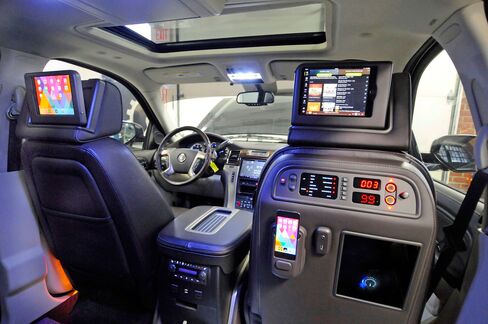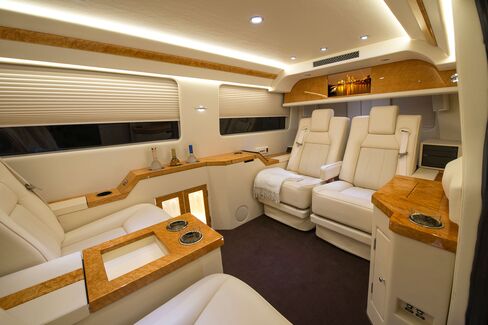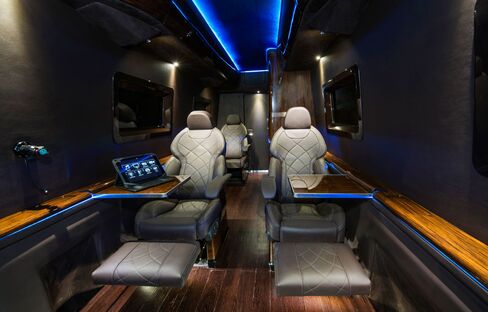 Before it's here, it's on the Bloomberg Terminal.
LEARN MORE