Thatcher Policies Questioned in Study Citing Weak Productivity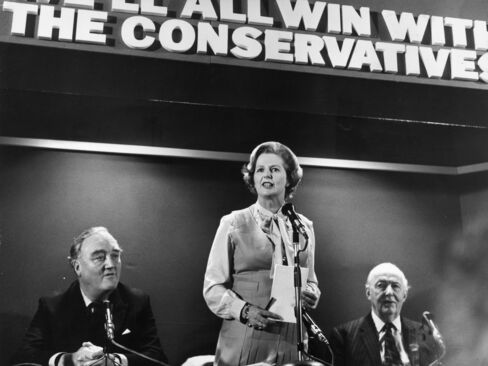 Margaret Thatcher's economic policies failed the U.K. and left the country with long-term structural shortcomings that persist to this day, according to research at the University of Cambridge.
Liberalization had very little positive economic impact and productivity growth "clearly slowed" after 1979, Ken Coutts and Graham Gudgin at the Centre for Business Research at Cambridge said in the study published Wednesday. Any fillip was due to looser financial rules and a surge in household debt, which proved unsustainable, they said.
Thatcher -- the U.K.'s Conservative prime minister from 1979 to 1990 -- implemented free-market reforms that led to the decline of mining and manufacturing and paved the way for the rise of Britain's now-dominant services industry. That's proving to be an issue for Prime Minister David Cameron today as he attempts to turn Britain's consumer-driven recovery into a sustainable expansion that increases living standards for all.
Coutts and Gudgin said while the "conventional wisdom" is that the policies after Thatcher's 1979 election -- lower income taxes, free movement of capital and labor, privatization, trade union restraints and light-touch regulation -- remain the best model, that may not be the case.
Coutts has previously written about the long-term decline in manufacturing in advanced economies, while Gudgin has worked on regional economic policies and is a former adviser to the Labour Party.
While they don't outline specific measures, they recommend a regime that attempts to avoid some of the socially damaging aspects of those reforms, citing the experience in Nordic economies. In addition to productivity, their research taps into the issue of inequality amid a global debate on the widening wealth gap.
New Problems
"The U.K. economy before 1980 had many unsatisfactory aspects," they said. "Liberalization changed much about this system but without accelerating growth in GDP or productivity. Instead it exchanged old problems, such as poor industrial relations and relatively high inflation for new ones including high unemployment and soaring income inequality."
According to their analysis, average annual growth in per capita GDP slowed from 2.6 percent a year in three decades before 1980 to 2.2 percent in the years to 2007, and declined 0.2 percent per year since then. Productivity growth is unlikely to rise above 1.4 percent in future, with GDP per capita growth less than 1.5 percent.
"The extreme de-industrialization" left the U.K. with a "permanently lower rate of productivity growth," the study said.
Coutts and Gudgin also said that while the U.K.'s relative performance improved in the 1980s, the fact that other major economies slowed in the period disguised the failure of the liberal policies.
This is an "appropriate time to question whether the U.K. is following the most appropriate form of capitalism," they said. "A wider range of varieties of capitalism are available to policymakers than is commonly assumed."
Read this next:
Before it's here, it's on the Bloomberg Terminal.
LEARN MORE