South Korea Vows to End Spread of MERS After Seventh Person Dies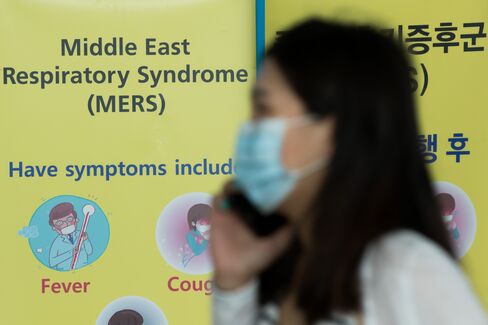 South Korea reported its seventh death from Middle East respiratory syndrome while Hong Kong said it will issue its second-highest travel warning to prevent unnecessary visits to the country.
The number of new MERS cases rose by 8 to 95, the most in the world after Saudi Arabia, South Korea's health ministry said on Tuesday. The rate of increase slowed from 23 reported on Monday and 22 on Sunday, prompting a government pledge to halt the virus's spread within this week.
"People's worries are growing about not only the spread of MERS but also its negative influence on the economy and society," Acting Prime Minister Choi Kyung Hwan said Tuesday at a meeting on MERS, according to his office. "The government has decided to begin an aggressive response system with the resolve to end the MERS situation within this week."
The bullish tone contrasted growing concern around the region. Hong Kong issued a red alert on outbound travel to South Korea, indicating a "significant threat" and making it easier for travelers to obtain trip refunds or make insurance claims if they adjust their plans.
Cathay Pacific Airways Ltd. said today it would waive rebooking and re-routing fees for flights from Hong Kong to South Korea; while Scoot, a budget carrier controlled by Singapore Airlines Ltd., also said it would drop the fees.
The other countries listed as red by Hong Kong are Egypt, Lebanon, Nepal and Pakistan. The only country with the highest black alert, indicating "severe threat," is Syria.
Border Controls
Indonesia issued a travel advisory for trips to South Korea due to MERS, Antara news agency reported, citing Foreign Minister Retno Marsudi. Japan said it would boost monitoring of inbound passengers.
"We are taking all measures to respond to the MERS outbreak," Japanese Chief Cabinet Secretary Yoshihide Suga told reporters in Tokyo on Tuesday. "We are properly carrying out border controls to ensure it doesn't enter Japan."
About 25,000 people canceled trips to South Korea from June 5 to June 7, according to the Korea Tourism Organization.
China's official Xinhua News Agency last month accused South Korea of "bungling" its response after a man supposedly under medical surveillance traveled from South Korea to China via Hong Kong and became the country's first and only MERS case.
Affected Hospitals
South Korea's government has also faced criticism at home for failing to contain the virus's spread. Its initial refusal to name the affected hospitals contributed to public unease and led people to avoid seeking treatment for other symptoms. The government relented; the latest list includes 29 facilities.
All MERS infections in South Korea have been confirmed as occurring in hospitals, indicating the virus hasn't spread into the community. The latest death was a 68-year-old woman with heart disease who came into contact with another MERS patient at a Seoul hospital in late May, the health ministry said.
Still, the growing number of cases increases the risk of a community outbreak, Hong Kong's health minister Ko Wing-Man said yesterday. The government ordered more than 2,200 schools in South Korea to close due to MERS, the education ministry said on Tuesday.
In South Korea, officials have warned about a potential negative impact on the economy, and have urged the public not to overreact in a way that harms consumer spending. President Park Geun Hye today called on her cabinet to prepare "all preemptive measures" to counter economic risk.
Ten of 18 economists surveyed by Bloomberg see the central bank cutting the benchmark interest rate this week.
Global Cases
MERS has infected more than 1,200 people globally since 2012, with at least 448 related deaths, according to the World Health Organization. The virus can lead to severe illness including respiratory failure, or septic shock, and there's no vaccine or cure.
South Korea's first MERS case, or patient zero, was a 68-year-old man who traveled to Bahrain from April 18 to May 3. He visited three hospitals with fever and other symptoms before he was diagnosed with the MERS virus and admitted to a government-designated facility, the health ministry has said.
Before it's here, it's on the Bloomberg Terminal.
LEARN MORE