Russia Would See Moon Replace Sun and Still Shun Ukraine for Gas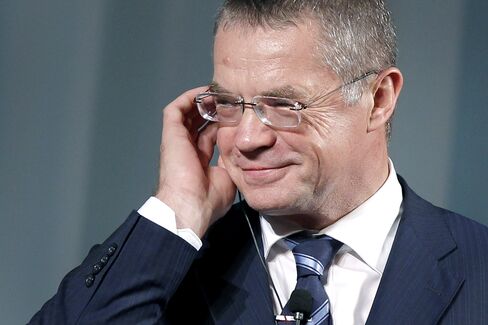 Russia won't pipe gas across Ukraine after a transit deal expires in four years no matter what happens to the Kremlin's plans to sideline its former Soviet ally turned deadly rival by building an alternative pipeline through Turkey.
"Ukrainian transit won't be used any more even if the sun and moon switch places," Alexander Medvedev, deputy head of the state-controlled energy company OAO Gazprom, said in Moscow.
The world's biggest gas exporter plans to sign an agreement linked to the pipeline with Turkish state-run counterpart Botas by the end of this month, Medvedev told journalists Tuesday. The European Union, which has sought to support Ukraine in its battle with Moscow, would have to accept the new route, he said.
"There are still four years left" before the contract with Ukraine expires at the end of 2019, according to Medvedev. "All would be decided" with the EU by that time, he said.
Russian relations with the 28-nation bloc have soured over the country's bloody conflict with Ukraine even as both sides depend on the trade in gas. Shipments of the fuel to Europe make up about 10 percent of Russia's $498 billion of exports.
Russian President Vladimir Putin in December scrapped the planned $45 billion South Stream gas link designed to bypass Ukraine, citing EU opposition, after almost a decade of talks. Europe unveiled antitrust charges against Gazprom in April.
Gazprom can't say when Russia and Turkey will sign a deal on the alternative link after the Turkish president's party lost control of parliament in an election Sunday, Medvedev said.
Laying Pipe
Turkey is committed to the project, he said. Gazprom will reach agreement with Botas including on a gas-price discount demanded by Turkey since December, Medvedev said. Private Turkish importers have signed price agreements, he said, while Gazprom is also preparing to start pipe-laying.
The planned link, with an annual capacity of as much as 63 billion cubic meters, may run toward Italy and central Europe, following much of the route of South Stream as long as there are agreements within the EU, Putin said in April. He began talks on the link with debt-troubled Greece and Hungary this year and may discuss the project with Italy during his visit on Wednesday.
Medvedev declined to comment on costs, saying estimated spending on the offshore part of South Stream was about 13.2 billion euros ($15 billion). Europe will need Russian gas for years and Gazprom's role will grow, even with all the efforts of "the politicos and sanctions," he said.
Before it's here, it's on the Bloomberg Terminal.
LEARN MORE