Rajaratnam Wants New Trial After Key Insider-Trading Ruling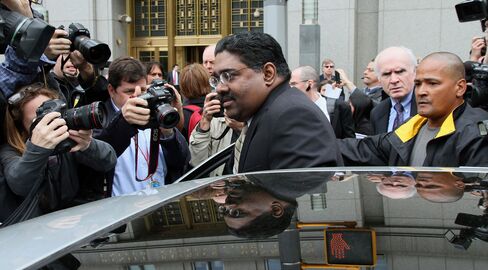 Raj Rajaratnam said he'll ask for a new trial based on an appeals court ruling the former billionaire fund manager claims raises new doubts about his insider-trading conviction and 11-year prison sentence.
Rajaratnam, co-founder of Galleon Group LLC, said in a letter Tuesday to U.S. District Judge Loretta Preska in Manhattan that some of his convictions should be thrown out because of a Dec. 10 ruling by the U.S. Court of Appeals setting a higher threshold for prosecuting insider cases.
The appeals court ruling, which tossed the convictions of two traders and barred new trials, also threatens some of the more than 80 insider-trading convictions obtained by Manhattan U.S. Attorney Preet Bharara. The ruling makes it harder for the government to win convictions, requiring prosecutors to prove defendants knew their tips came from someone who had a duty to keep them secret and who also got a benefit for leaking them.
Rajaratnam, who the U.S. called "a master of the Rolodex" for using company insiders to make more than $72 million in illegal profits, was tried and convicted in 2011. The U.S. Supreme Court refused to hear his appeal last June.
He said he intends to argue that under the new standard, prosecutors failed to show tips were furnished by a tipper in exchange for such a benefit.
Key Witness
He also said in his letter that a key witness at his trial, Anil Kumar, lied during his testimony. Kumar, a former director at McKinsey & Co., pleaded guilty in the case and cooperated with prosecutors. Kumar testified three times, including at the insider-trading trial of Rajaratnam's younger brother, Rengan, who was cleared in July of wrongdoing in the government's first loss in the insider-trading probe.
"Mr. Kumar testified at three separate trials, each time he did so accurately, truthfully and to the best of his recollection," Greg Morvillo, a lawyer for Kumar, said in an interview.
Morvillo said Kumar told him Rajaratnam's wife, Asha Pabla, asked him to retract his trial testimony that he passed inside information about client matters to Rajaratnam.
"Mr. Rajaratnam's wife recently contacted Mr. Kumar asking him to recant his testimony and Mr. Kumar explained that he had testified truthfully and would do no such thing," Morvillo said.
Rajaratnam's Wife
Christine Chung, a lawyer for Rajaratnam, declined to comment on Kumar's claims. Samidh Guha, who represented Rajaratnam and his wife in a federal lawsuit in Connecticut, also declined to comment.
Separately, federal prosecutors said Tuesday that they're still deciding whether to ask the Supreme Court to review the December appellate ruling. The high court rejects most such requests. In April, the Manhattan appeals court turned down the government's bid for a rehearing after prosecutors argued the ruling would dramatically limit their ability to prosecute such cases.
The ruling has been cited by least a half-dozen people challenging insider-trading convictions.
The appeal case is U.S. v. Newman, 13-1917, U.S. Court of Appeals for the Second Circuit (Manhattan).
Before it's here, it's on the Bloomberg Terminal.
LEARN MORE