Paulson Funds Said to Extend 2015 Increases Last Month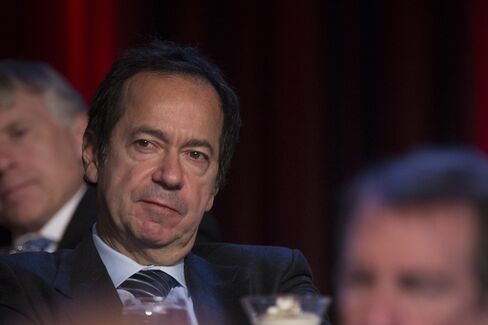 John Paulson, the billionaire money manager who last week donated $400 million to Harvard University's engineering school, posted big gains at most of his firm's hedge funds in May.
Paulson's Advantage fund, which makes investments tied to corporate events, rose 3.5 percent last month and 8 percent this year, said a person with knowledge of the matter, who asked not to be named because the results are private. Paulson's Partners merger strategy gained 2.7 percent, bringing returns for the year to 9.3 percent.
Paulson & Co., which oversees about $20 billion, is rebounding after posting its second-worst year ever in 2014. The New York-based firm has benefited this year from successful wagers on energy, health-care mergers and Greek banks. His funds are outpacing stocks and bonds and easily beating the average hedge fund. The Bloomberg Global Aggregate Hedge Fund Index advanced 0.1 percent in May and 3.4 percent in the first five months of this year.
Armel Leslie, a spokesman for Paulson & Co. with Peppercomm, declined to comment on the performance.
The investor, known for a lucrative 2007 bet against the U.S. housing market, has held positions this year in companies including Time Warner Cable Inc., which last month agreed to be acquired by Charter Communications Inc.
Leveraged Funds
The leveraged version of Paulson's event-driven fund returned 4.3 percent in May and 12 percent in 2015, according to the person. The merger fund's leveraged alternative surged 5.4 percent last month and 19 percent year-to-date.
The firm's main credit fund fell 1.4 percent in May, cutting gains to 4 percent this year, the person said. Paulson Special Situations fund, formerly known as Recovery, climbed 3.1 percent in May and is even for this year.
Paulson, 59, posted losses at most of his funds in 2014 after wrong-way bets on energy securities added to declines stemming from a failed merger and investments in Fannie Mae and Freddie Mac.
Before it's here, it's on the Bloomberg Terminal.
LEARN MORE