Oil Rises to 2015 High as U.S. Inventories Fall for Sixth Week
Oil futures rose to the highest level this year as U.S. crude stockpiles capped their longest stretch of weekly declines since August.
Supplies decreased 6.81 million barrels through June 5, the biggest drop since July, the Energy Information Administration reported. Refiners processed a record amount of crude for this time of year.
U.S. crude output will decrease after reaching the highest level since 1972 in May, according to government estimates, as drillers cut the number of oil rigs to the lowest level in four years. Production from prolific shale formations will fall next month to the lowest level since January.
"It's a bullish set of statistics," said John Kilduff, a partner at Again Capital LLC, a New York-based hedge fund that focuses on energy. "Refiners are running at a record level and demand for crude is very strong."
West Texas Intermediate for July delivery climbed $1.29, or 2.1 percent, to $61.43 a barrel on the New York Mercantile Exchange, the highest settlement since Dec. 9.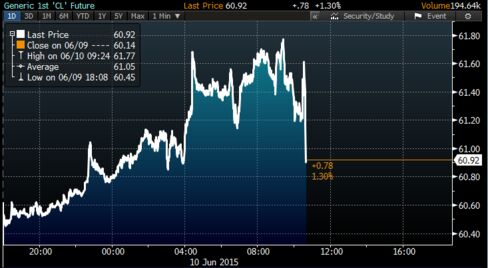 Brent for July settlement gained 82 cents to $65.70 a barrel on the London-based ICE Futures Europe exchange, the highest since May 21. The European benchmark crude traded at a premium of $4.27 to WTI.
U.S. crude inventories fell to 470.6 million last week, the lowest level since March 20 and the sixth straight decline, according to the Energy Information Administration. Analysts surveyed by Bloomberg had expected a drop of 1.5 million.
Supply Response
"The general trend for prices should be upward," said Paul Crovo, a Philadelphia-based oil analyst at PNC Capital Advisor. "We are seeing continued supply response to lower prices."
Supplies at Cushing, Oklahoma, the delivery point for WTI, dropped 1.02 million.
Refiners used 16.9 million barrels a day of crude, up 1.5 percent from the previous week. Plants operated at 94.6 percent of their capacity.
Plants are delaying maintenance scheduled for 2015 until 2016 to take advantage of "incredible" margins and demand for refined products including gasoline, Robert Campbell, head of oil-products research at Energy Aspects Ltd., said in an interview in New York.
Crack Spread
Gasoline futures gained 3.3 percent to $2.1464, the highest level since October. The gasoline crack spread, a rough measure of the profit from processing a barrel of oil into gasoline, rose to $28.785 a barrel, the highest since March.
"The supply outlook is getting tighter and the demand outlook is getting better as we approach the summer driving season," said Phil Flynn, senior market analyst at the Price Futures Group in Chicago. "That's the perfect recipe for a rebound in prices."
Crude production from shale formations such as North Dakota's Bakken and Texas's Eagle Ford will shrink 1.3 percent to 5.58 million barrels a day this month, based on EIA estimates. It'll drop further in July to 5.49 million, the agency said on Monday.
Falling Output
Total crude output in the U.S. will peak at a 43-year high in 2015 as producers work through a backlog of uncompleted wells before trailing off in the second half of the year. Production will increase to 9.43 million barrels a day this year, the most since 1972, the EIA said Tuesday in its monthly Short-Term Energy Outlook Tuesday. Monthly output peaked in May at 9.59 million.
Saudi Arabia, the world's biggest crude exporter, produced 10.33 million barrels a day in May, an increase of 25,000 barrels a day from April, data the country provided to OPEC showed.
The Organization of Petroleum Exporting Countries pumped 30.975 million barrels a day of crude in May, according to data from third parties compiled by the group's analysts. OPEC agreed last week to keep its output ceiling at 30 million barrels a day and will meet again on Dec. 4. It has exceeded its target for the last 12 months, according to data compiled by Bloomberg.
Before it's here, it's on the Bloomberg Terminal.
LEARN MORE