The early backer of companies such as Achillion Pharmaceuticals Inc. and Intercept Pharmaceuticals Inc. closed a new $500 million fund, the latest sign that biotech venture-capital investing is on course for a record year.
Clarus Ventures' new fund, announced Tuesday, will focus on opthalmology, oncology and rare diseases. It follows funding raises this year of $537 million for Flagship Ventures, $400 million for MPM Capital and $280 million for Atlas Venture.
U.S. venture funds are on pace to invest almost $7 billion into biotech companies in 2015, according to data through the first three months of the year from the National Venture Capital Association, PricewaterhouseCoopers and Thomson Reuters. That would be the most ever, surpassing $6.08 billion last year. The first quarter represented about 23 percent of total investment for the year from 1995 to 2014.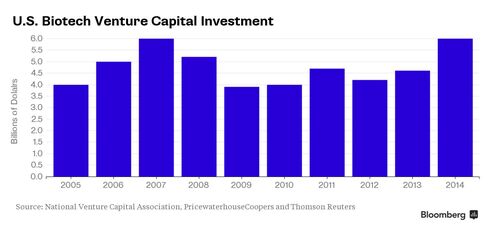 Clarus, with offices in San Francisco and Cambridge, Massachusetts, had aimed to bring in $375 million for its new fund but was swamped with demand, Managing Director Nicholas Galakatos said. The investments bring Clarus's total under management to $1.7 billion.
Enough money is flowing into biotech that startups are able to be choosy about the investors they work with, said Jay Lichter, managing director at Avalon Ventures, which manages $625 million.
"Four to five years ago if Joe Blow had money you'd be like, 'Great, I love the guy!'" Lichter said by phone. "Now you're looking for people who can help your business the best, not just provide the capital."
Stock Boom
The rise in biotech venture investing has mirrored the industry's boom on the stock market. The Nasdaq Biotechnology Index has climbed more than fivefold since 2009, compared with the Standard & Poor's 500 Index's 130 percent increase. Drugmakers have gone into the market to raise more money, taking in $18.7 billion in follow-on stock sales in the first quarter of 2015 alone.
The industry is getting momentum from new treatments that combat rare diseases or harness the immune system to fight cancer. And the U.S. Food and Drug Administration has been approving more drugs and speeding others toward approval under a new regime that rewards novel medicine when patients have few options. The 41 drugs the FDA signed off on in 2014 was an 18-year high.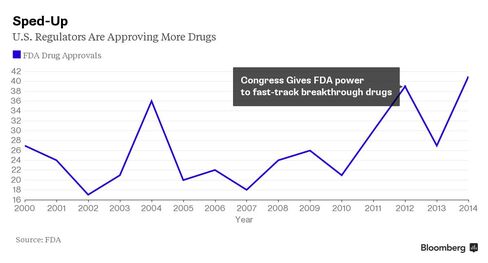 High Valuations
Still, the swift rise in biotech stocks has raised concerns that companies are becoming overvalued. The Nasdaq Biotechnology Index is trading at 9.7 times annual sales, compared with 1.8 times for the S&P 500.
"Valuations are definitely at the higher end, but they're not back to late '90s kind of highs," said Matthew McPherron, a managing director at Brookside Capital. While he said 5 percent to 10 percent of Brookside's $5 billion under management is invested in biotech, the hedge fund short-sells indexes to protect itself.
"When stuff goes up a lot it can also go down," McPherron said.
Galakatos said he's not worried about the surge in demand for his new fund.
"I've been through the high levels of the environment and the low levels of the environment," he said by phone. "The fundamentals of the science have really not changed over time."
(Corrects previous record in third paragraph to reflect revised figures.)
Before it's here, it's on the Bloomberg Terminal.
LEARN MORE