Modi Goes Private to Lure Infrastructure Investment to India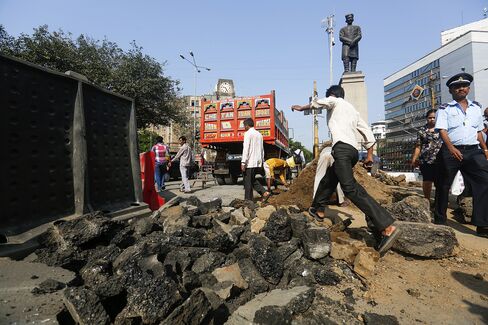 Massive opportunities, even bigger obstacles.
That sums up private participation in Indian infrastructure, with investment plunging 84 percent in the first half of 2014 from its peak in 2012 even as the economy grew at the second-fastest pace among major markets.
Prime Minister Narendra Modi is moving to eliminate those bottlenecks, which Ernst & Young said cost the economy at least 2 percent of growth a year. After easing financing for airports, highways and power plants, he's now proposing an infrastructure company to attract investment from some of the world's wealthiest organizations.
The government will use 200 billion rupees ($3 billion) to establish the company, which will be called National Investment and Infrastructure Corp., said officials with knowledge of a note prepared for cabinet approval later this month.
The government and public sector entities will hold 49 percent, with the rest offered to multilateral development banks, sovereign wealth funds, pension funds and other organizations, they said, asking not to be identified because they aren't authorized to speak with the media.
NIIC will then buy shares in existing infrastructure lenders such as Rural Electrification Corp. and Power Finance Corp., which will provide debt to selected projects.
A private sector company can treat each infrastructure project as a special purpose vehicle, which should enhance monitoring, said Deven Choksey, managing director at KR Choksey Shares & Securities Pvt., a Mumbai-based brokerage. "Decision-making will be prudent and faster," he said.
Top Five
While the government's large stake will give NIIC quasi-sovereign status, external asset management companies will be in charge of treasury operations and the investment team's salaries will be on par with the private sector to attract top talent, according to the proposal.
Finance Ministry spokesman D.S. Malik declined to comment.
Boosting infrastructure investment by 1 percent of GDP could add 3.4 million jobs, McKinsey estimated in 2013. In the eastern state of Assam, a 1 percentage point increase in the electrification rate boosted literacy by 0.17 percentage point and upgrading water and sanitation in a slum in the western Ahmedabad city lowered health insurance claims by 50 percent, according to the report.
Private participation in Indian infrastructure fell to $3.6 billion in the first half of 2014 from a peak of $23.8 billion two years earlier, World Bank data show. Even so, India's investment was among the top five, after Brazil, Turkey and Mexico, and ahead of China.
Funding Gap
In its first budget last year, Modi's administration said India has emerged as the world's largest public-private-partnership market with more than 900 projects in various stages of development. The S&P BSE India Capital Goods Index, a gauge of engineering companies, rose 50 percent in 2014, outpacing the benchmark stock index.
Successive governments have attempted to lure investment, with little luck. Projects have been delayed due to red tape and a shortage of funding, which the World Economic Forum estimates at about $110 billion over the next two decades for urban development, according to an Economic Times report.
The gap between electricity demand and supply widened to 87 million units in 2012/13 from 73 million in 2007/08, government data show.
Modi Steps
The administration, which has a backlog of 13.5 trillion rupees of stalled projects, plans to spend 1 trillion rupees on infrastructure this year, Junior Finance Minister Jayant Sinha said Monday.
In his first year in office, Modi has reduced capital requirements for private airport developers, agreed to fund as much as 40 percent of public-private highway development, and allowed companies to own the power plants they build to make it easier for them to get loans.
The Dalian Wanda group, run by China's richest man Wang Jianlin, seeks to build five industrial parks in India with the first completed by the end of 2017, India's Industrial Policy Secretary Amitabh Kant said in New Delhi on Wednesday. Modi's office has appointed a senior bureaucrat to assist Chinese companies, Le Yucheng, Chinese ambassador to India, said at the same event.
India has a young population and huge market, Wang told Indian officials on Tuesday, according to a statement on the company's website. Two calls to Dalian Wanda's press office on Wednesday were unanswered.
Before it's here, it's on the Bloomberg Terminal.
LEARN MORE