Soccer Executive Who Ate During FIFA Raid Surrenders to Police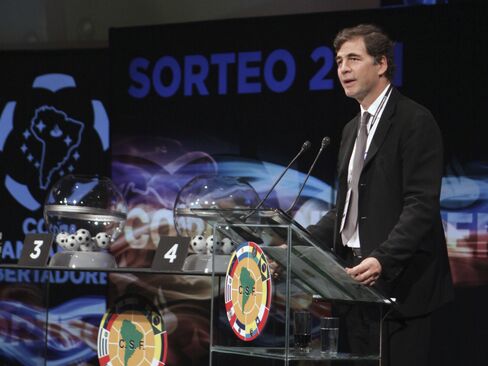 The Argentine sports executive who avoided capture during a raid on a FIFA delegates' Zurich hotel last month has surrendered voluntarily to Italian police in the northern city of Bolzano.
Alejandro Burzaco, controlling principal of the sports-marketing company Torneos y Competencias SA, had been seen the morning of May 27 having breakfast at the Baur au Lac hotel as plainclothes officers wrapped up the operation that would rock international soccer.
Burzaco, accompanied by his lawyers, presented himself to the police and was arrested this morning, according to an e-mailed statement from Italian police headquarters in Bolzano.
He was then transported to jail in Bolzano, where he is being made available to judicial authorities, the statement said.
On June 3, Interpol issued wanted-person alerts for Burzaco and five other soccer executives for charges including racketeering, conspiracy and corruption.
During the Swiss raid, Burzaco, 50, had at first been apparently unaware he was slipping through an international dragnet, according to a senior official with FIFA who was also at the breakfast. By the end of the morning, the U.S. Justice Department revealed Burzaco had been indicted in the corruption case involving FIFA.
The Swiss police may have had no way of knowing Burzaco was there. At the hotel on May 28, reception and reservations workers said by telephone that they had no record of anyone with Burzaco's name being a guest at the Baur au Lac, neither then nor the day of the arrests.
$110 Million
By the time they had finished their work, police had detained seven men, most of whom were at the hotel. In all, the Justice Department indicted 14. FIFA President Sepp Blatter said the following week he'd step down in the wake of the Justice Department's corruption probe.
Torneos y Competencias said in an earlier statement that it denied the U.S. accusations concerning the involvement of the company or Burzaco in alleged corruption related to FIFA. The company has removed Burzaco as its chief executive officer, Argentine media reported, citing a company statement.
Burzaco is named in the sprawling U.S. indictment as being part of a group that paid kickbacks to secure rights to South America's most prestigious international competition, the Copa America. His group agreed to pay $110 million in bribes to secure rights to four editions of the competition starting with this month's event in Chile, according to U.S. prosecutors.
On social media, Burzaco's last traces had put him on track for breakfast in Zurich the day of the raid. On May 26, he posted a Twitter message in Spanish that said: "In London: heading to Zurich; to FIFA World."
For more on FIFA, read this next:
Before it's here, it's on the Bloomberg Terminal.
LEARN MORE