Labour Scent Victory After Scandal in the Shadow of Canary Wharf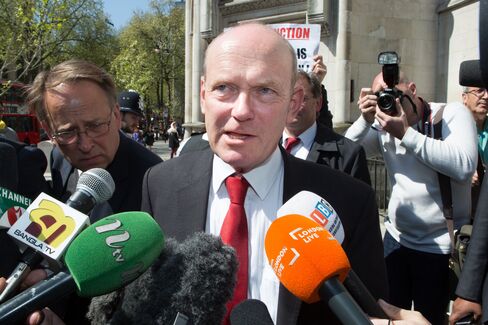 Residents of the east London district of Tower Hamlets voted overwhelmingly for Labour in the May 7 general election, but John Biggs, the party's candidate in Thursday's mayoral contest, is finding it a "challenge" to persuade them to do the same again.
Former Mayor Lutfur Rahman, an independent who was stripped of his post in April after a judge said he had "driven a coach and horses through election law" to win last year, has thrown his weight behind Rabina Khan, who, like Rahman, is a Bangladeshi-born former Labour councilor.
And in spite of the taint of corruption around her mentor, Khan is still the 2/1 second favorite with bookmaker Ladbrokes to win, behind Biggs who is 2/5 favorite.
"This is a borough that traditionally votes Labour and we'd like people to support us like they did in the general election," Biggs said in an interview. "But while people are angry -- there's a great relief that Lutfur Rahman has gone, translating that into votes to make sure he's not replaced by a pale imitation is quite a challenge."
Rahman won the mayoralty in 2010 as an independent after being ousted as Labour's candidate following a battle with its local and national party hierarchies over allegations linking him to Islamist fundamentalists. He used vote-rigging, religious bullying of Muslim voters through their imams and false allegations of racism against Biggs to return to office last year, Judge Richard Mawrey ruled at the High Court in April.
"Not Controlled"
Khan, who as mayor would become responsible for the borough's 1.2 billion pound ($1.8 billion) budget, "would not be controlled by Lutfur Rahman," even though his picture endorsement appears on her election leaflets, she wrote in Total Politics magazine.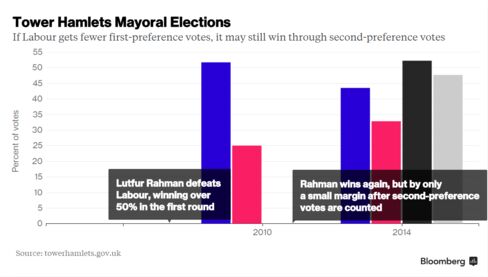 "I have had my own branding here for a long time," she said in a telephone interview, adding that her support extends beyond the Bengali community. "I do not want to disassociate myself from Lutfur Rahman's policies," including increased funding for housing, education and community groups, she said.
Timothy Clarke, 77, a retired postman who backed Rahman last year but voted Labour in the general election, said he will probably vote for Khan because of her record as a councilor, though he has been having second thoughts because of the "negative publicity" around Rahman.
"She's done quite a bit for the area and she's well known and well liked on my road," Clarke said as he walked down Brick Lane, home to many of the borough's Bangladeshi businesses. "She might win because loyalty in this area matters."
Bengali-Speakers
Bangladeshis are the borough's largest single ethnic group, making up 32 percent of the population, and will probably turn out in greater proportion than other communities, Biggs said. His campaign team includes several Bengali-speakers to help canvass their support.
As part of his attempts to persuade the community to vote for him rather than Khan, Biggs has pledged to introduce an annual day in memory of Altab Ali, a 25-year-old Bengali worker who was murdered by racist youths in 1978.
"For me it's not about the Bengalis versus the whites. I don't think in that way," said Rajinder Shamra, 56, who runs a clothes stall and said he will back Biggs after voting Labour in the general election. "I don't see much difference."
Alongside high rates of poverty, the borough, home to the Canary Wharf financial district, also has a large community of wealthy gentrifiers led by bankers and lawyers.
Organic Coffee
At weekends Biggs says the "assertive middle class" can be found perusing pop-up markets selling organic coffee and iberico ham on Columbia Road, adjacent to the concrete housing blocks where he spent last Tuesday afternoon knocking on doors.
He hopes the second-preference votes of those who vote for the Green, Liberal Democrat or Conservative candidates will help him defeat Khan if she tallies more first-preference votes.
Victory would be a timely boost for Labour as it attempts to rebuild after defeat in the May 7 election which returned Prime Minister David Cameron to power. Biggs described activists as "very bruised" by the experience and in need of a win.
Both Khan and Biggs, the front-runners in the contest, agree that the winner will inherit a divided community.
"I'd be worried if I was elected on a very polarized vote," Biggs said. "Whichever community people are in, they're fed up of the controversy and want to have a well-run borough where they can think about the future rather than internal bickering."
With the Metropolitan Police investigating 16 allegations of electoral malpractice in the current race, it's unlikely the bickering will stop just yet.
Before it's here, it's on the Bloomberg Terminal.
LEARN MORE