Ireland Should Burn Anglo Irish Junior Bondholders, Honohan Says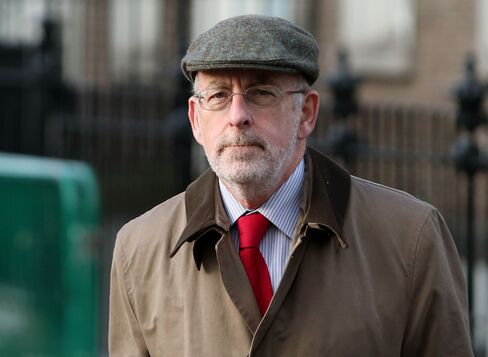 The governor of the Central Bank of Ireland, said any surplus from the liquidation of the former Anglo Irish Bank Corp. should be returned to the state that bailed it out rather than to junior bondholders.
"Clearly the moral case for this is almost unassailable, but there are also good financial economics arguments," Patrick Honohan wrote in March e-mails to an Irish Finance Ministry official that were obtained by Bloomberg News. "The amounts involved are not large relative to what has happened, but they are certainly worth a big legal battle."
The Irish Independent reported the correspondence earlier on Tuesday. A central bank spokesman declined to comment.
Anglo Irish, once Ireland's biggest lender to property developers, cost taxpayers about 29.3 billion euros ($33 billion) in bailout funds before the government renamed it Irish Bank Resolution Corp. and shut it down in 2013. Liquidators have since sold off assets to buyers and remaining creditors -- including junior bondholders -- could share any surplus funds left over after the wind-down.
Remaining creditors of IBRC may share about 1.9 billion euros, the Irish Finance Ministry said in March. While the Irish state is one of the biggest creditors, junior bondholders are owed about 280 million euros.
The European Union's Bank Recovery and Resolution Directive, which regulators created after the financial crisis, wouldn't allow state funds to be used to "bail out sub-debt holders," so Ireland is within "legal principles to legislate now," Honohan wrote.
In the e-mails, Honohan cites the case of bailed-out Austrian lender Hypo Alpe-Adria-Bank International AG. That country's government injected 5.5 billion euros into the bank before halting its support in March in a move that may inflict losses on bondholders. Doing something similar with the former Anglo Irish is "fully consistent with current euro-area practice," Honohan wrote.
"We'll take Patrick Honohan's advice very seriously if it comes to that," Finance Minister Michael Noonan said on Tuesday, according to a report on the Irish Examiner's website.
Before it's here, it's on the Bloomberg Terminal.
LEARN MORE