Goldman Sachs Says German Banker Dibelius to Retire in July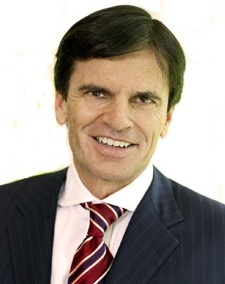 Alex Dibelius, one of Germany's best-known investment bankers, is retiring from Goldman Sachs Group Inc. after more than two decades.
Dibelius, 55, a former heart surgeon who joined the U.S. firm in 1993 from McKinsey & Co., has decided to retire at the end of July, according to an internal memo on Tuesday, seen by Bloomberg. The move comes after Goldman Sachs named Dibelius co-chairman of its investment-banking division in October, ending his high-profile tenure as the head of the bank's German business.
Goldman Sachs said last month that Gordon E. Dyal, also co-chairman of the investment-banking unit, will leave the firm after 16 years.
During his 22-year career, Dibelius has generated headlines from advising on some of the country's biggest deals to a high-profile divorce, appearances with celebrities at Germany's Oktoberfest and his first child last year. He worked on Vodafone Group Plc's acquisition of Mannesmann AG in 2000, a record deal at the time, and Daimler AG's ill-fated merger with Chrysler Corp. in 1998.
His departure comes as Goldman Sachs solidifies its standing at the top of global mergers and acquisitions. The firm in April posted the highest earnings per share in more than five years, including the best financial-advisory revenue since the financial crisis.
Dibelius has worked in Frankfurt, London and New York and held roles including chairman of global industrials and overall responsibility for the firm's business in Germany, Austria, and Central and Eastern Europe. He was named partner in 1998, according to Tuesday's memo.
Before it's here, it's on the Bloomberg Terminal.
LEARN MORE