Ex-Speaker Hastert to Give First Answer to Hush-Money Charges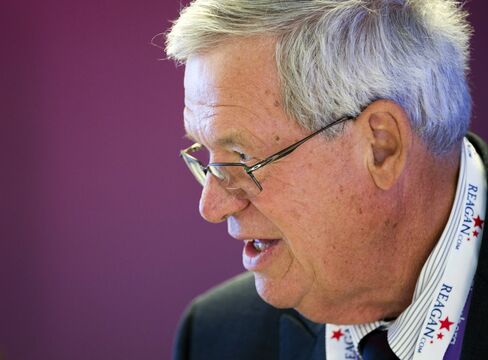 Former U.S. House Speaker J. Dennis Hastert may break almost two weeks of silence to respond to charges he planned to pay $3.5 million to keep someone else quiet about past misconduct.
Hastert, 73, is due Tuesday to make his first appearance in Chicago federal court, where he's to be arraigned on two felony counts that are each punishable by as long as five years in prison.
Hastert's first response may be when he's asked how he pleads to the charges. Since being indicted, he hasn't issued a statement or commented publicly. The identity of his attorney wasn't known until Monday.
Thomas C. Green, a white-collar defense lawyer in Washington with Sidley Austin LLP, filed a one-page court form saying he was representing Hastert. Green's clients, according to a Web biography, have included people enmeshed in marquee Washington scandals spanning three decades: Watergate, Iran-Contra and Whitewater.
Hastert, a Republican from Plano, Illinois, who was second in line to the presidency for eight years, has been unreachable for comment since being charged. He resigned as a lobbyist at Washington-based Dickstein Shapiro LLP, where he had represented a coalition backing a federal renewable fuels standard and the Republic of Turkey.
Green didn't respond to phone and e-mail messages seeking comment on the case.
Prior Misconduct
While Hastert's alleged prior misconduct wasn't described in court papers, a U.S. official familiar with the case said it was sexual in nature and dated to his tenure as a high school teacher and wrestling coach in Yorkville, Illinois. The official spoke on the condition of anonymity because of the criminal case.
Hastert was paying the money to an unnamed person as compensation for that unspecified prior misconduct, Chicago U.S. Attorney Zachary Fardon said when he announced the charges last month.
The charges against Hastert concern banking laws designed to deter money laundering by drug dealers and terrorists.
A U.S. grand jury indicted Hastert for structuring almost $1 million in bank transactions to evade federal reporting requirements and for lying to Federal Bureau of Investigation agents about what he was doing with the cash.
"It appears to be a fairly strong case," said Reid Schar, a former federal prosecutor in Chicago who was part of the team that won the corruption conviction of former Democratic Illinois Governor Rod Blagojevich in 2011.
Immutable Records
The prosecution will be largely driven by immutable banking records, said Schar, now in private practice at Jenner & Block LLP.
Hastert, according to the indictment, took a total of $1.7 million from various accounts from 2010 to 2014. After an initial series of $50,000 withdrawals drew inquiries from bank officials, he began taking out sums below the $10,000 reporting threshold.
He is accused of making at least 106 of those transactions and then falsely telling FBI agents he was keeping the cash because he distrusted the banking system, according to court filings.
"When you make a large withdrawal, banks are required to file a report with the feds so they can watch where the money is going," Travis Nelson, who served in the enforcement division of the Treasury Department's office of the Comptroller of Currency. "The fact of these withdrawals is a red flag for possible criminality."
'Individual A'
Schar and Nelson, now the co-chairman of Pittsburgh-based Reed Smith LLP's anti-money laundering group, said Hastert might have been able to secretly -- and legally -- resolve the matter with the person identified in the indictment as "Individual A."
"They could have worked this out through lawyers," under an agreement of confidentiality, Schar said.
Had he simply written a check, it's unlikely the speaker would have been indicted, Nelson said.
The former congressman's defense may rest on what bank officials told him after inquiring about the initial series of withdrawals, Nelson said.
Prosecutors must show Hastert acted with the intent to avoid triggering the reporting requirement. If he was unaware of it, that would be a defense, Nelson said.
Hastert may ultimately negotiate a plea deal under which he might serve little if any prison time because of his long record of public service, according to Nelson.
The structuring wasn't designed to conceal ongoing criminality, Nelson said. "This isn't a dirty money issue."
The case is U.S. v. Hastert, 15-cr-315, U.S. District Court, Northern District of Illinois (Chicago).
Before it's here, it's on the Bloomberg Terminal.
LEARN MORE