Ex-U.S Speaker Hastert Pleads Not Guilty in Hush-Money Case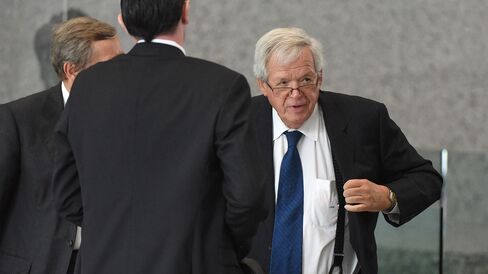 Former U.S. House Speaker J. Dennis Hastert ended almost two weeks of silence with a not guilty plea to charges he evaded federal banking laws and lied to the FBI to hide decades-old "misconduct."
It was the nature of the alleged wrongdoing that reverberated from Capitol Hill to rural Illinois. Hastert planned to pay $3.5 million to keep quiet allegations of sexual misconduct from his days as a high school teacher and a wrestling coach, according to a U.S. official who requested anonymity.
Making his first public appearance since his May 28 indictment, Hastert, 73, dressed in a dark suit, blue tie and looking grim, stood in front of a federal judge in Chicago and responded to a series of questions with a soft "yes, sir."
The Republican from Plano, Illinois, is accused of withdrawing almost $1 million from various bank accounts in amounts of less than $10,000 to avoid bank reporting requirements meant to detect money laundering. He was also charged with lying to federal investigators about the reason for the withdrawals. Hastert faces as long as five years in prison on each count, if convicted.
Once seated, Hastert mostly looked straight ahead, glancing three times at the court room gallery, which was filled with lawyers, on-lookers and members of the news media, before quickly looking away.
Hushed Court
He appeared before U.S. District Judge Thomas M. Durkin, who brought the courtroom to a hush when he said he'd step down unless all parties involved agreed to let him preside over the case.
The judge, a former federal prosecutor in Chicago and partner at Mayer Brown LLP, confirmed published reports that he twice donated to Hastert's political campaign. He said he gave a total of $1,500 through another Mayer Brown lawyer, with the Federal Election Commission recording a $1,000 contribution in 2004 and $500 in 2002.
The judge's brother, Jim Durkin, is the Republican leader in the Illinois House of Representatives.
"I have no doubt that I can be impartial in this matter," said Thomas Durkin, who had the case randomly assigned to him. He said he's "not so naive" as to think his impartiality couldn't be reasonably questioned.
The judge gave both sides until Thursday to let the court know whether they object to him presiding over the case.
Hastert remains free on $4,500 bond. He was ordered to surrender the firearms stored at his house within two weeks and to give up his passport.
Individual A
The former speaker allegedly paid someone, identified only as "Individual A," to conceal a "prior misconduct," Chicago U.S. Attorney Zachary Fardon said when announcing the charges.
Hastert served in Congress from 1987 to 2007, the last eight years as house speaker, second in line of succession to the presidency. Prior to that he was a teacher and wrestling coach at Yorkville High School, about 55 miles southwest of Chicago and about six miles east of Plano.
The U.S. official briefed on the probe, who described the case on the condition of anonymity because the prosecution was ongoing, wouldn't say whether the person being paid was one of Hastert's students or wrestlers, or a juvenile at the time of the misconduct.
Representing Hastert in court were two white collar criminal defense attorneys from the Chicago-based law firm Sidley Austin LLP.
Washington Scandals
Lead counsel Thomas C. Green is a former federal prosecutor who, in private practice, has represented individuals swept up in Washington scandals spanning three decades, including Watergate, Iran-Contra and Whitewater, according to his law firm biography.
Green's co-counsel, Chicago-based John Gallo, formerly represented Wisconsin Governor Scott K. Walker in connection with an investigation by the Milwaukee County, Wisconsin, district attorney. Gallo too is a former federal prosecutor, according to his firm biography.
Resigned Firm
The former speaker has been unreachable for comment since being charged. He resigned as a lobbyist at Washington-based Dickstein Shapiro LLP, where he had represented a coalition backing a federal renewable fuels standard and the Republic of Turkey.
Hastert left the court house in downtown Chicago without speaking to the media.
Hastert joins a horde of Illinois politicians who have faced legal troubles in recent years, including former Governors Democrat Rod Blagojevich and his predecessor Republican George Ryan.
"We have a former governor that's got out of jail, a former governor that's still in jail, a former Congressman that's got a federal investigation, and now we have what's happened here today, so I think it's more a stain on the state than the party," Pat Brady, former chairman of the Illinois Republican Party, told reporters in the lobby of the courthouse.
"Let's be honest, it's not great for the party either."
The case is U.S. v. Hastert, 15-cr-00315, U.S. District Court, Northern District of Illinois (Chicago).
Before it's here, it's on the Bloomberg Terminal.
LEARN MORE