Burundi Panel Proposes Presidential Election for Mid-July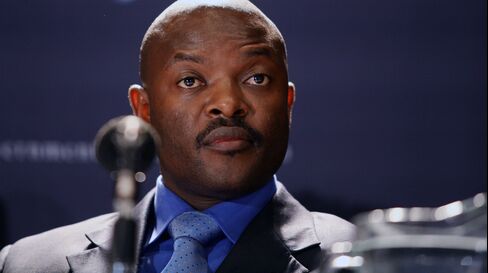 Burundi's electoral commission proposed July 15 as the new date for presidential elections, after more than a month of unrest prompted by leader Pierre Nkurunziza's bid for a third term forced a postponement.
Parliamentary elections, planned for June 5, could now take place on June 26, the original date of the presidential vote, commission president Pierre Claver Ndayicariye told reporters Monday in the East African nation's capital, Bujumbura.
"We calculated this new schedule so as not to face an institutional vacuum," Ndayicariye said after a meeting of the commission. "This will be validated by a presidential decree that we are expecting soon."
At least 21 people have died and more than 550 have been injured in unrest in Burundi since Nkurunziza's re-election bid was announced in late April, according to the country's Red Cross. Opponents say his candidacy violates a two-term limit set out in peace accords that in 2005 brought an end to a 12-year civil war. More than 90,000 people have fled Burundi over the past two months, fearing a return to violence.
Charles Nditije, leader of a Burundian opposition faction, said the electoral commission no longer has authority because two of its members left.
Burundi holds 6 percent of the world's nickel reserves, according to the African Development Bank. Kermas Group, a London-based investment company, is developing a mine at Musongati in the country's southeast, which ranks as one of the 10 largest known deposits of the metal.
Worrying Accounts
The United Nations High Commissioner for Human Rights, Zeid Ra'ad Al-Hussein, on Tuesday voiced concern at violence by Burundi's pro-government militia.
The UN has received "deeply worrying accounts" from refugees about "serious human rights violations" reportedly committed by Imbonerakure, the militia, Al-Hussein said, according to a statement on his website.
People who'd fled Bujumbura and other provinces described summary executions, abductions, torture, beatings, death threats and other forms of intimidation, Al-Hussein said.
Before it's here, it's on the Bloomberg Terminal.
LEARN MORE