BT to Charge for TV Soccer Matches as Sky Battle Heats Up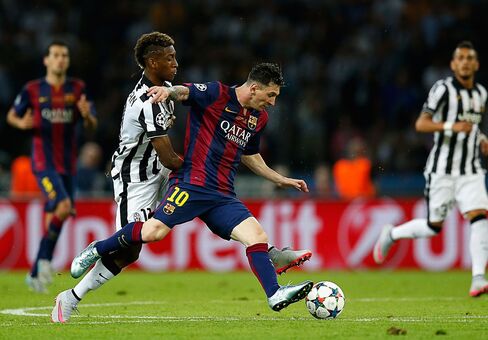 BT Group Plc will start charging for its sport channels for the first time as it seeks to recoup some of the billions it's spent in broadcast rights.
BT will start offering premium packages for 5 pounds ($7.64) a month to broadband subscribers, anchored by its exclusive rights to the Champions League and Europa League soccer games, the company said at a news conference in London Tuesday. A new channel that features the two leagues will start broadcasting on Aug. 1.
In addition to recovering some of the money it's spent building up its portfolio of soccer, rugby, ultimate fighting and other rights, BT is raising the profile of the channels and stepping up its rivalry with Sky Plc. Former Liverpool soccer club captain Steven Gerrard will present the Champions League games alongside Rio Ferdinand, who played for England's national soccer team dozens of times, and Gary Lineker, who holds the country's record for goals scored in World Cup finals.
"The arrival of BT Sport hasn't just shaken things up a bit, we have grown and re-energized," said John Petter, chief executive officer of BT's consumer business. "That competition has been good for everyone, but most of all it has been good for sports fans."
An "ultra-high-definition" channel, which will work with 4k resolution TVs, will also be available in August, though the U.K.'s biggest broadband provider declined to comment on how much it would charge.
Premier League
A scaled-down channel, which will include England's Premier League soccer games, will remain free to broadband subscribers. Customers who sign up for BT's TV service, which includes live TV, video-on-demand and streaming services like Netflix, will also get the premium sport channels free, tying the two offers together.
Sky said on June 8 that even though the Champions League, an annual competition among Europe's top soccer clubs, would move to its competitor BT "after many years on Sky Sports," customers would rather watch local teams play anyway. BT had won exclusive rights to broadcast Champions League and Europa League soccer matches for three years starting in the 2015-2016 season.
"It's the intense rivalry of our domestic competitions that matters most to customers," Barney Francis, managing director of Sky Sports, said on the company blog. "Over the last five seasons we have seen Champions League audiences fall 36 percent."
Viewer Battle
The two companies have been battling for viewers and content. BT bid against Sky for rights to show English Premier League soccer matches in 2012, in preparation for the BT sport channels' release about a year later. Since winning the rights, BT committed to spending about 2.6 billion pounds over three rounds of bidding for different packages of soccer broadcasting.
The TV channels have helped revitalize BT, the U.K.'s former monopoly phone provider, which had been struggling with declining home phone lines.
The company's added a million consumer broadband subscriber lines since 2013, ending the last fiscal year with 7.7 million. BT has 5.2 million customers for BT sport, which include direct customers and subscribers on wholesale deals with other providers.
"BT Sport has created a big product in its own right. BT TV is still languishing," said Macquarie Research analyst Guy Peddy. While the new channels were helpful for earnings, he said "it all comes down to the volume of people that sign up. It's a volume thing rather than a pricing thing."
BT has also agreed to buy EE Ltd., the country's biggest mobile-phone carrier, which will give it control of the biggest landline and wireless networks in the U.K.
Before it's here, it's on the Bloomberg Terminal.
LEARN MORE